The powerHouse Arena invites you to
a reading & signing

Hip Hop Aspara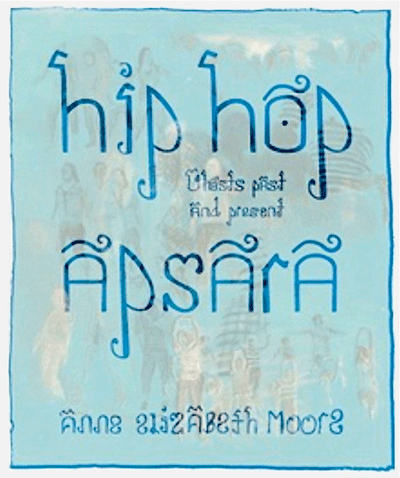 Tuesday, October 23, 7–9

PM



The powerHouse Arena · 37 Main Street (corner of Water & Main St.) · DUMBO, Brooklyn
For more information, please call 718.666.3049
RSVP appreciated: RSVP@powerHouseArena.com
Fulbright scholar Anne Elizabeth Moore is joined by a group of artists and writers for a storytelling event to celebrate the launch of her book that takes a look at the culture of Cambodia.
About Hip Hop Aspara:
"Radical" (L.A. Times), "poignant" (Boston Globe), "should not be missed" (Time), "a notable underground author" (The Onion), and "brilliant" (Kirkus) are all ways to describe Anne Elizabeth Moore and her writing. The award-winning author and artist has worked for years with young women in Cambodia on independent media projects, and her newest venture is a compilation of photographs and lyrical essays taking readers to the streets of the country's capital city, Phnom Penh, and out into the countryside—where few get to travel.
Alternating full color and black and white photographs depict Phnom Penh's bustling nightlife as locals gather to dance on a newly revitalized riverfront directly in front of their prime minister's urban home, thus forming a portrait of the nation's emerging middle class. Images from a southern province depict a nation in dialogue with its government, hoping for development that lifts all citizens. A series of essays complement the imagery, investigating the relationship between public and private space, mourning and memory, tradition and an economic development unrivaled in the last 1,200 years.
"Traditional movements push against young passions," Moore writes. "Development is fluid and janky. But a generation is learning what comfort feels like, learning what it feels like to have survived. To celebrate, to honor, they dance most nights like they are possessed."
Hip Hop Apsara aims to break through the cavalier and hardened consciousness many hold about Cambodian culture and its recent, violent, past under the Khmer Rouge. "People seem rooted in this belief that Cambodia's very far away and very weird," Moore said. "It is far away, but for 14 million Cambodians, it's not weird at all — plus it's a place the US has had a lot of negative influence over. So it seems like we should know something about it, as Americans."
About the Author:
Anne Elizabeth Moore is a Fulbright scholar, a UN Press Fellow, the Truthout columnist behind Ladydrawers: Gender and Comics in the US, and the author of several award-winning books. Cambodian Grrrl: Self-Publishing in Phnom Penh (Cantankerous Titles, 2011) received a best travel book award from the Society of American Travel Writers Foundation in 2012. Hey Kidz, Buy This Book (Soft Skull, 2004) made Yes! Magazine's list of "Media That Set Us Free," and Reclaim the Media's 2004 Media and Democracy Summer Reading List. The first Best American Comics made both Entertainment Weekly's "Must List" and Publishers Weekly's Bestsellers List. Unmarketable: Brandalism, Copyfighting, Mocketing, and the Erosion of Integrity (The New Press, 2007) made Reclaim the Media's 2007 Media and Democracy Summer Reading list and was named a Best Book of the Year by Mother Jones. Moore herself was recently called "one of the sharpest thinkers and cultural critics bouncing around the globe today" by Razorcake.
About the participants:
Joe Garden is a grown-ass 42-year old man incapable of making basic decisions without input from strangers on social networks. In the past, he was features editor at The Onion (where he created the characters Jim Anchower and Jackie Harvey), co-wrote two episodes of the award-winning cartoon Word Girl, co-wrote three novelty books (The New Vampire's Handbook, The Devious Book For Cats, and The Dangerous Book For Dogs. Great gifts! Check 'em out!), and appeared in the critically acclaimed film Big Fan. He currently working on a new website for Adult Swim.
Elizabeth White's work includes photography, video, installation, and social practices. Her work has recently been exhibited in the Artisterium International Contemporary Art Exhibition in Tbilisi, "No Soul For Sale" at the Tate Modern in London, "A Map is not the Territory" at FiveMyles Gallery in Brooklyn, and "Surveil" at the Center for Endless Progress in Berlin. Her work has also been shown in New York, Dublin, and Leipzig as well as Japan and New Zealand. White was awarded a project grant from CECArtsLink in 2011 and has been honored with an Aaron Siskind Fellowship and the support of the Hattie Strong Foundation. She has been featured on ArtInfo.com and her interview with Dina Kantor was published by The Girl Project. White holds an MFA from the School of Visual Arts in New York, and a BA from Vassar College. Based in Brooklyn, she teaches digital art and culture courses at the College of Staten Island (CUNY) and Ramapo College, and has been a visiting faculty member at Bennington College in Vermont.
Elizabeth Crane is the author of three collections of short stories, most recently You Must Be This Happy to Enter. She is a recipient of the Chicago Public Library 21st Century Award. Her work has been featured on NPR's Selected Shorts and adapted for the stage by Chicago's Steppenwolf Theater. Her debut novel, We Only Know So Much, is out now from HarperPerennial.
Mike Taylor is a Brooklyn based artist whose work includes the long running art zine Late Era Clash (since 1994!). His work has appeared in Mothers News, The Lifted Brow, Outpost Journal, Paper Rodeo, The RISD Museum's Wunderground Catalogue, and other places you haven't heard of. He has most recently shown at San Francisco's Needles and Pens and Booklyn Artists Alliance. He is currently working on more things like that.
---