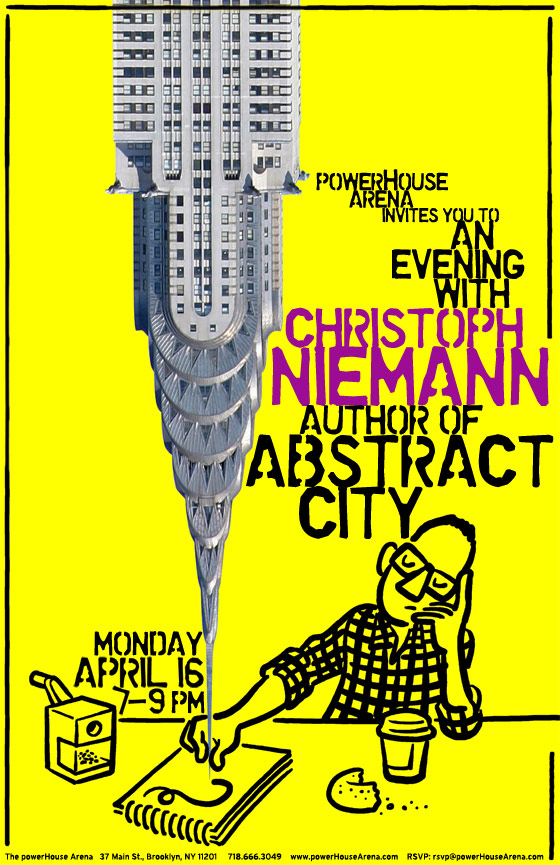 The powerHouse Arena invites you to an evening with:
Christoph Nemann
Monday, April 16, 7–9 pm
Drinks will be served

The powerHouse Arena · 37 Main Street (corner of Water & Main St.) · DUMBO, Brooklyn
For more information, please call 718.666.3049
rsvp: rsvp@powerHouseArena.com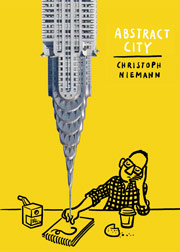 We welcome Christoph Niemann back to The Arena with Abstract City, a collection of work from his popular New York Times blog.
About Abstract City:
In 2008, world-renowned graphic designer Christoph Niemann began drawing and writing Abstract City, a charming, visual blog for The New York Times. His posts were inspired by the desire to recreate simple and everyday observations and stories from his own life. The topics he chose ranged from the joy of riding the subway with his kids, his obsession with maps and LEGOs, his love/hate relationship with coffee, and his hate/hate relationship with cables and red-eye flights, to his struggles with holiday cookies, physics, and spooning. This book, Abstract City, contains the original sixteen essays from the blog. In an additional chapter about his creative process, Niemann explains why talent is overrated, and how yoga almost destroyed his design career.
About Christoph Niemann:
Christoph Niemann is an award-winning illustrator, designer, and children's book author. His books for children include Subway, I LEGO N.Y., and The Red Dragon. He is a regular contributor to The New Yorker, Wired, and The New York Times. He lives in Berlin, Germany.
---