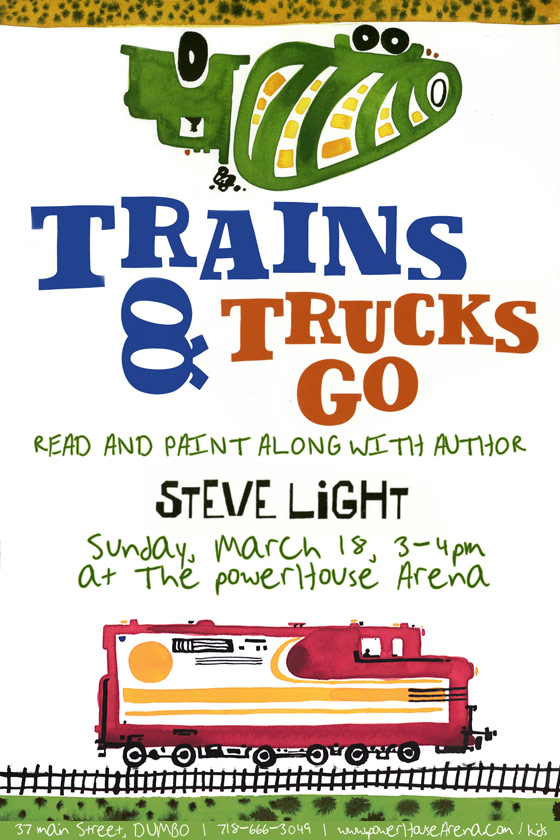 The powerHouse Arena invites you to a kids event:
Trains & Trucks Go!
Read & paint-along with author Steve Light
Sunday, March 18, 3–4 pm
Ages 3–6

The powerHouse Arena · 37 Main Street (corner of Water & Main St.) · DUMBO, Brooklyn
For more information, please call 718.666.3049
rsvp: kids@powerHouseArena.com

Steve Light, author of the popular board books Trains Go and Trucks Go, will read and lead a painting activity for young transportation enthusiasts ages 3–6.
About Trains Go:
The big steam train goes, "CHUGGA chugga chugga CHUGGA chugga chugga CHOO CHOOOO!" The diesel train goes, "zoosh zhoosh ZOOOOOSH ding ding ding!" The American goes, "clang clang clang TOOT TOOT!" Take a trip on eight noisy trains as they huff, puff, and toot-toot their way through this lively board book.
About Trucks Go:
The garbage truck goes, "BRRRRRRRR SCREETCH BEEP-BEEP-BEEP CRUNCH CRUNCH CRUNCH!" The fire engine goes, "WHEE-OOO WHEE-OOO WHEE-OOO!" The cement truck goes, "VERRRRP JIGGA JIGGA VRRRRUMMMMM!" Seven popular vehicles grumble, roar, and crunch their way through this very simple, graphically appealing board book.
About Steve Light:
Steve Light is a teacher and storyteller.
---