The powerHouse Arena invites you to the book launch for:
Under the Moons of Mars
edited by
Wednesday, February 22, 7–9 pm

The powerHouse Arena · 37 Main Street (corner of Water & Main St.) · DUMBO, Brooklyn
For more information, please call 718.666.3049
rsvp: rsvp@powerHouseArena.com

John Carter of Mars is back in this anthology of stories based on the mythology of Edgar Rice Burroughs. Join editor John Joseph Adams and contributors for a reading and signing.
About Under the Moons of Mars: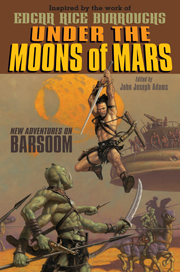 Science fiction fans, rejoice: the classic character John Carter of Mars, created by Edgar Rice Burroughs, is back! In time for the 100th anniversary of the publication of A Princess of Mars, this brand new anthology, Under the Moons of Mars, takes a beloved character into brand-new territory with a collection of stories that fans will eagerly devour. With a foreword by celebrated fantasy writer Tamora Pierce and introduction and header notes by John Joseph Adams, the collection includes stories by Joe R. Lansdale, Jonathan Maberry, Peter S. Beagle, Robin Wasserman, Garth Nix, and many more.
Building on the mythology created by Burroughs, these tales explore questions and plots that further the lives of original characters such as John Carter's mortal enemy, Sarkoja. In Under the Moons of Mars, the fantastic world of Barsoom and the characters inhabiting it are brought to life by today's freshest science fiction voices and vivid illustrations that give the book a dose of comic book visual energy while maintaining a focus on the stories themselves. After reading, you'll be hungry for more John Carter adventures!
About the author:
John Joseph Adams (johnjosephadams.com)—called "the reigning king of the anthology world" by Barnes & Noble.com—is the bestselling editor of many anthologies, such as Brave New Worlds, Wastelands, The Living Dead, The Living Dead 2, By Blood We Live, Federations, The Improbable Adventures of Sherlock Holmes, and The Way of the Wizard. He is a two-time finalist for the Hugo Award and a three-time finalist for the World Fantasy Award. He is also the editor and publisher of Lightspeed Magazine, and is the co-host of The Geek's Guide to the Galaxy podcast. Find him on Twitter @johnjosephadams.
---