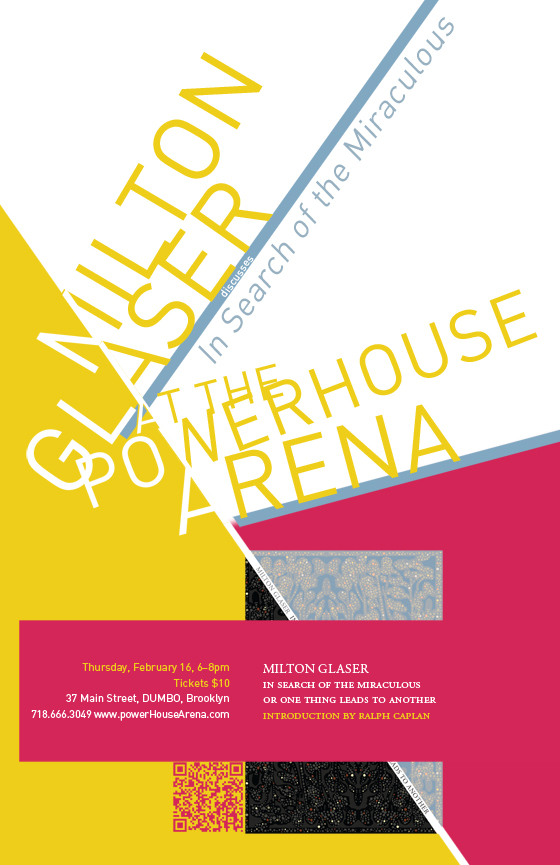 The powerHouse Arena invites you to a signing and discussion:
Milton Glaser
Thursday, February 16, 6–8 pm

The powerHouse Arena · 37 Main Street (corner of Water & Main St.) · DUMBO, Brooklyn
For more information, please call 718.666.3049

TICKETS $10
Ticket holders receive $10 off purchase of In Search of the Miraculous
BUY TICKETS HERE
Graphic design legend Milton Glaser comes to The powerHouse Arena for an exclusive discussion and signing of his new book In Search of the Miraculous.
About In Search of the Miraculous:
Milton Glaser is perhaps the most celebrated graphic designer in the world. As a young man, he read a phrase that stayed with him through his life: "In Search of the Miraculous." One could say that all human experience is a miracle—memory, color, taste, Vermeer, stars, watermelon, etc. For those like Glaser, the act of making things that move the mind is perhaps the deepest aspiration towards the miraculous. In this volume, he has chosen work, largely created by him over the last five years, to demonstrate how one concept leads to another. Through fascinating juxtapositions, readers will gain insights into Glaser's oeuvre, journeying with him as he discovers that seemingly new designs frequently come out of provocative ideas taken from the distant past.
About Milton Glaser:
Milton Glaser has had one-man shows at the Museum of Modern Art and the Georges Pompidou Center. In 2004, he was selected for the lifetime achievement award of the Smithsonian Cooper-Hewitt National Design Museum. In 2010, he was awarded a National Medal of Arts by Barack Obama. His books include Graphic Design, Art is Work, and Drawing is Thinking, all published by Overlook.
---