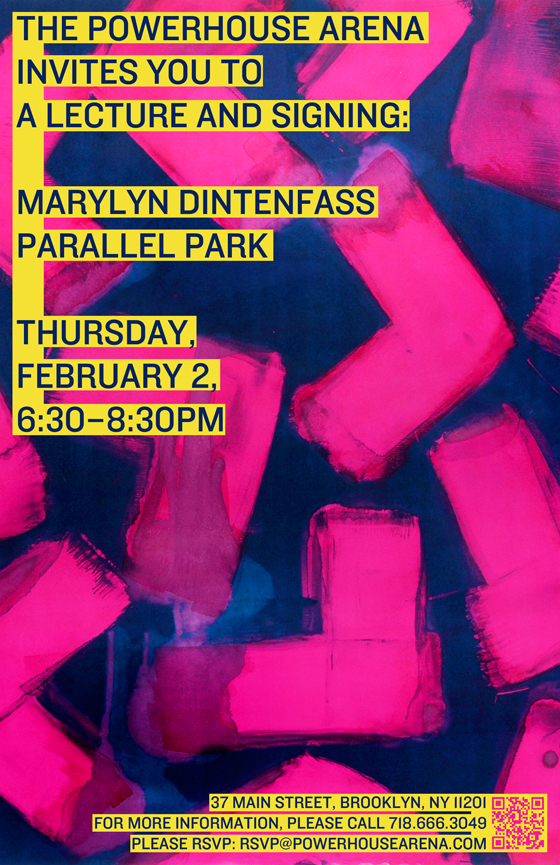 The powerHouse Arena invites you to a lecture and signing:
Marylyn Dintenfass: Parallel Park
Thursday, February 2, 6:30—8:30PM

The powerHouse Arena · 37 Main Street (corner of Water & Main St.) · DUMBO, Brooklyn
For more information, please call 718.666.3049
rsvp: rsvp@powerHouseArena.com

The artist will sign and discuss Marylyn Dintenfass Parallel Park, a newly-published monograph detailing the genesis, evolution and transformational impact of her latest permanent art installation that is also one of the largest public art works in the United States. Author Aliza Edelman will also participate in the event to provide a broader historical and contextual perspective on Marylyn Dintenfass' artwork and Parallel Park.
About Parallel Park: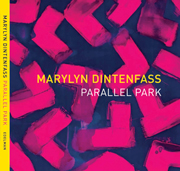 Marylyn Dintenfass' notable work develops from her saturated color inventions, her powerful gestural mark making, and her fastidious intellectual and emotional rigor. Her painting, printmaking' and sculpture have always been innovative in her pragmatic choice of, and often counter-intuitive adaptive use of materials to create and convey the content of her apparently abstract imagery. Parallel Park is Dintenfass' largest installation so far: a 30,000 square foot articulated Kevlar and aluminum frieze in which conventional and unconventional materials and techniques are superseded only by the visceral flow of the artist's inspired and dynamic gestural color codas on the automobile.
Parallel Park, one of the most ambitious and transformative art installations of the past decade, variously explores, embraces, and exalts Dintenfass' lifelong love affair with automobiles. That passionate affair is thoroughly signaled through her vigorous drawings, assertive monotypes, dramatic paintings, and in the monumental "Parallel Park" installation as it wraps the four facades of a five story parking garage in Fort Myers, Florida.
This book brilliantly reveals Dintenfass' rigorous intellectual and emotional aesthetic vision through more than 160 color plates and a dynamic and distinguished critical text written by Aliza Edelman. Additional contributions by Ron Bishop, Michele Cohen, John Driscoll, Barbara Hill, and Jennifer McGregor further contribute to our understanding of this important aspect of Dintenfass' work.
About the participants:
Marylyn Dintenfass' work is in major public and private collections in Europe, Israel, Japan, and throughout the United States including The Metropolitan Museum of Art, The Cleveland Museum of Art, the Detroit Institute of Arts, and the Museum of Fine Arts, Houston. Her 2011 Babcock Galleries' exhibition Souped Up/ Tricked Out was identified by Modern Painters magazine as one of "The Top 100 Best Fall Shows" worldwide. Parallel Park was highlighted in the January 2012 issue of ArtNews, described by Donald Miller as having "raised a parking garage in Fort Myers, to art status." Dintenfass has had recent solo shows at the Mississippi Museum of Art [supported by The Andy Warhol Foundation], the Greenville County Museum of Art and the Flint Institute of Arts, and her work was included in the Inaugural Exhibition of New York's Museum of Art and Design.
Aliza Edelman Ph.D., is a New York-based art historian who writes on issues of gender and social identity in modern and contemporary art. In addition to her book Marylyn Dintenfass Parallel Park, her scholarship and publications focus on artistic relationships and exchanges among North and South American women artists, and the Modern Woman and Abstract Expressionism.
---