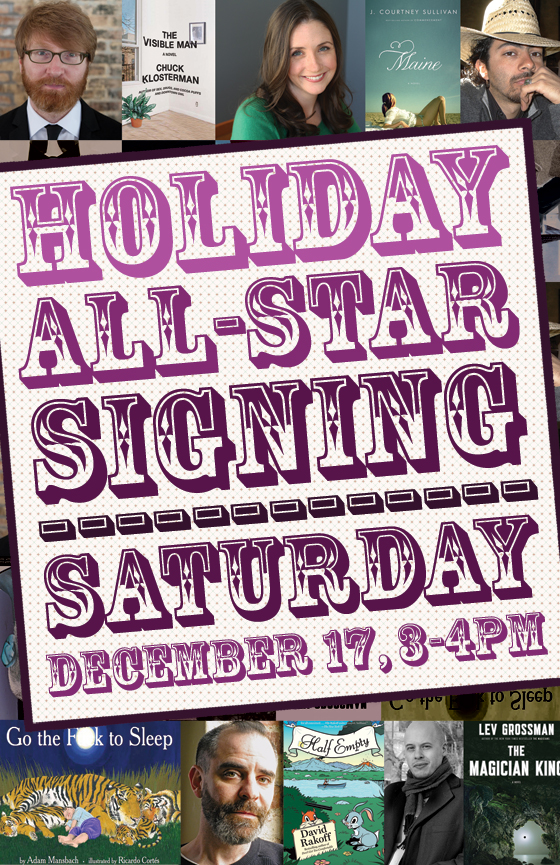 The powerHouse Arena invites you to our
Holiday All-Star Signing
Saturday, December 17, 3–4 pm

The powerHouse Arena · 37 Main Street (corner of Water & Main St.) · DUMBO, Brooklyn
For more information, please call 718.666.3049
rsvp: rsvp@powerHouseArena.com

We're assembling some of the year's hottest authors (and one illustrator) in the store for a group signing. Get books personalized and exchange pleasantries! Read on for more about this fabulous group:
Ricardo Cortés, illustrator of Go the F*** to Sleep, has illustrated books about marijuana, electricity, the Jamaican bobsled team, and Chinese food. His work has been featured in The New York Times, Vanity Fair, Entertainment Weekly, New York Magazine, Village Voice, The San Francisco Chronicle, and on the O'Reilly Factor and CNN. He lives in Brooklyn, NY, where he is working on a book about the history of Coca-Cola and cocaine.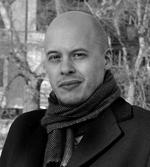 Lev Grossman is the author of The Magician King and the bestselling novels The Magicians and Codex. A well-known cultural commentator, he is the book critic for TIME magazine and has written for numerous other publications, including The New York Times, The Believer, The Wall Street Journal, The Village Voice, Salon and Wired. In 2011, Grossman won the John W. Campbell award for Best New Writer from the World Science Fiction Society. He is a graduate of Harvard and Yale, and lives in Brooklyn with his wife and two daughters.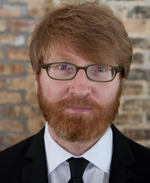 Chuck Klosterman is The New York Times bestselling author of The Visible Man, Eating the Dinosaur, Downtown Owl, Chuck Klosterman IV, Killing Yourself to Live, Sex, Drugs, and Cocoa Puffs, and Fargo Rock City, winner of the ASCAP-Deems Taylor Award. He has written for GQ, Esquire, The New York Times Magazine, Spin, The Washington Post, The Guardian, The Believer, A.V. Club, and ESPN, and he now writes about sports and pop culture regularly for Grantland.com. He lives in Brooklyn, NY.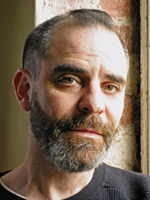 David Rakoff is the author of the books Half Empty, Fraud, and Don't Get Too Comfortable. A two-time recipient of the Lambda Literary Award, he is a regular contributor to Public Radio International's This American Life. His writing has appeared in the New York Times, Newsweek, Wired, Salon, GQ, Outside, Gourmet, Vogue, Slate, Harper's Bazaar, and The New York Observer, among other publications, and has been included in Da Capo's Best Music Writing, The Best American Travel Writing as well as The Best American Non-Required Reading. He can be seen in the movies Capote (fleetingly), Strangers with Candy (fleetingly; mutely), and, most recently, he adapted the screenplay for and starred in Joachim Back's film The New Tenants, which won the 2010 Oscar for Best Live Action Short.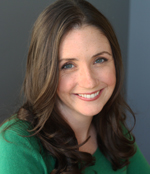 J. Courtney Sullivan is the author of the New York Times bestselling novel Commencement. Her writing has appeared in The New York Times Book Review, The Chicago Tribune, New York magazine, Elle, Glamour, Allure, Men's Vogue, and the New York Observer, among others. She is a contributor to the essay anthology The Secret Currency of Love, and co-editor of Click: When We Knew We Were Feminists. She lives in Brooklyn, New York. Maine is her second novel.
---