The powerHouse Arena invites you to a book launch for:
Candle 79 Cookbook
Modern Vegan Classics from New York's Premier Sustainable Restaurant
Thursday, November 10, 7–9 pm

The powerHouse Arena · 37 Main Street (corner of Water & Main St.) · DUMBO, Brooklyn
For more information, please call 718.666.3049
rsvp: rsvp@powerHouseArena.com

New York's premiere vegan restaurant has compiled their favorite recipes into this handy cookbook. Come celebrate the launch with vegan snacks and drinks provided by Candle 79.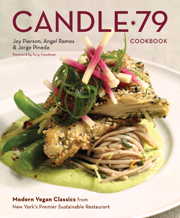 About Candle 79 Cookbook:
Eating vegan food doesn't mean you have to make sacrifices. In fact, it can be indulgent, refined, and satisfying. With the new Candle 79 Cookbook, even meat lovers can savor delicious, bountiful, earthly delights in an eco-minded fashion without feeling like they are missing out.
To the joy of home cooks everywhere, one of the best vegan and vegetarian restaurants in the country is now bringing its earth-friendly, upscale fare and flare to the home kitchens of vegans, vegetarians, and omnivores alike. Expanding the horizons of vegan cuisine, the Candle 79 Cookbook offers conscientious, flavorful, modern recipes from New York's premier sustainable restaurant.
Nutritional consultant Joy Pierson and her life partner Bart Potenza opened their casual Candle Café after winning $53,000 in the New York lottery. The seed money and café catapulted them into the forefront of the burgeoning farm-to-table movement, attracting a wide range of fans from Wall Street brokers, yogis, rock stars, and five-star chefs to everyday folk. Ten years later, they opened their high-end counterpart: Candle 79, maintaining their commitment to plant-based meals that delight the palate and have a wow factor in every bite. Candle 79 rapidly became a destination restaurant with a stellar reputation that earned it top ratings from the likes of Zagat and The New York Times. Its creative, elegantly presented, healthy, and delicious cuisine not only lends sophistication to vegetarian fare, but also brings the concepts of "local," "seasonal," "sustainable," and "vegan" into the culinary mainstream in a way that is synonymous with exceptionally great food.
Now this elegant cooking—so revered by traditional and holistic communities—is at home in any kitchen with the Candle 79 Cookbook, tempting every home cook to make truly green cuisine. Approachable yet extraordinary recipes like Ginger-Seitan Dumplings, Chocolate Mousse Towers, and Cucumber-Basil Martinis will impress food-lovers of every stripe.
Inspiring readers with its stand-out packaging and timely topics, such as pairing vegan food with bio- dynamic wines, the book's vivid photography and modern approach only enhances the style and sophistication executive chef Angel Ramos and pastry chef Jorge Pineda bring to their vegan cuisine. With more than 100 recipes that are hearty and decadent yet healthy and fresh, the Candle 79 Cookbook is set to revolutionize the way we think of plant-based meals.
About the authors:
Joy Pierson, a nutritional consultant who has appeared on major television and radio, is the coauthor of The Candle Café Cookbook and co-owner of Candle Café, Candle 79, and Candle's catering and wholesale business. She lives in New York.
Angel Ramos, the executive chef at Candle 79 who has been with the Candle group since 1995, is one of the country's foremost vegan chefs.
Jorge Pineda is the pastry chef and restaurant manager who helped open Candle 79.
---