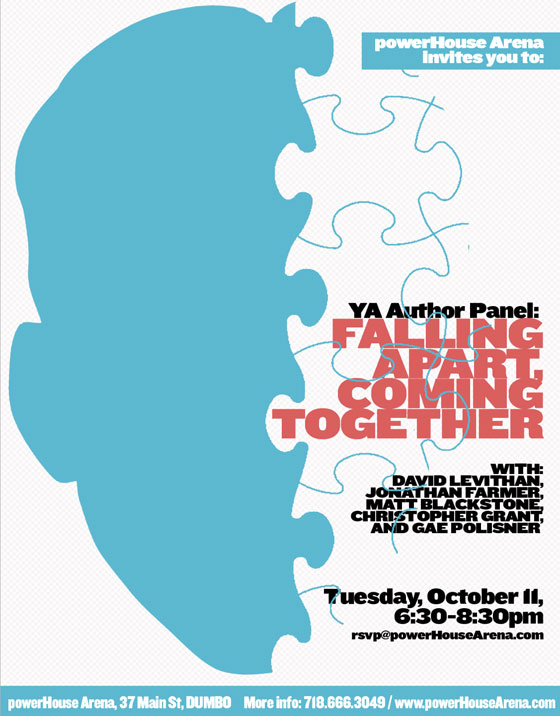 The powerHouse Arena presents a panel discussion:
Falling Apart, Coming Together
Tuesday, October 11, 7–9

PM



The powerHouse Arena · 37 Main Street (corner of Water & Main St.) · DUMBO, Brooklyn
For more information, please call 718.666.3049
rsvp: rsvp@powerHouseArena.com

Young Adult authors David Levithan, Jonathan Farmer, Matt Blackstone, Christopher Grant, and Gae Polisner come clean on their recent novels about shattered teenagers who try to put the pieces back together.
About the speakers:
Matt Blackstone joined Teach for America after graduating from the University of Pennsylvania. He has taught 9th and 10th grade English in the Bronx for six years. A Scary Scene in a Scary Movie is his first novel. He wrote it for the teens he teaches.
Jonathan Farmer, to this very day, has not, cannot, and may never decide just what it is he wants to be when he grows up. Once, he thought he had found the perfect descriptor-"Naturalist"-but David said that just made him sound like a botanist...or a nudist. Since then, Jonathan has narrowed it down to: photographer, performer, writer, director, and teacher. He spent his early years exploring the mysterious forests of New Hampshire. But now, since moving to Brooklyn, NY, Jonathan has been growing to love the hustle and bustle of the city. From time to time, though, you might catch him longing for the sweet smell of the pines. Visit Jonathan at jwfarmer.com.
Christopher Grant, author of Teenie, is a Stony Brook University graduate and was born and raised in Brooklyn, New York. An insatiable reader, his influences range from Tom Clancy to Junot Diaz. Currently a professional equities trader, he lives in Harlem, New York and spends his free time traveling the world with his wife and family.
David Levithan is the author of many acclaimed young-adult novels, including the New York Times bestselling Nick & Norah's Infinite Playlist (with Rachel Cohn), which was adapted into a popular movie. He is also an editorial director at Scholastic.
Gae Polisner writes women's and young adult fiction and wrote The Pull of Gravity as an homage to the books she loved as a teenager by the likes of Zindel, Konigsburg, Blume, and L'Engle. When Gae is not writing, she is a practicing divorce attorney/mediator and in her spare time can be found swimming in the open waters off Long Island. The Pull of Gravity is her first novel.
---