The powerHouse Arena and SocialDocumentary.net invite you to the opening reception for:
Ten Years After 9/11:
Searching for a 21st Century
Landscape
Featuring Work from SocialDocumentary.net's
"Ten Years After 9/11" Call for Entries Winners
Exhibit: August 20–September 16, 2011
Opening Reception: Saturday, September 10, 7–9 PM
The powerHouse Arena · 37 Main Street (corner of Water & Main St.) · DUMBO, Brooklyn
For more information, please call 718.666.3049
rsvp@powerHouseArena.com
"We asked photographers to document the first decade after 9/11. Four critical and interconnected themes emerged from the winning entries: the scramble to secure sources of oil despite a high cost to the environment; the Arab Spring's ongoing struggle to fight for governments that truly serve their people; the growing disparity between rich and poor; and, the alienation of the individual placed under these pressures," said Glenn Ruga, founder of SocialDocumentary.net and one of the judges of the Call to Entries. Click here to view all entries: http://www.socialdocumentary.net/competition_search.php
Judges included: Award-winning photographers Ed Kashi, Lori Grinker, Nina Berman, and Tomasz Tomaszewski (winner of the 2010 SDN Call for Entries); Fred Ritchin of New York University's Tisch School of the Arts; Amy Yenkin, director of the Open Society Institute's Documentary Photography Project and Ruga.
First Place Winner:
Syncrude Upgrader and Tar Sands / Alberta Tar Sands | 2005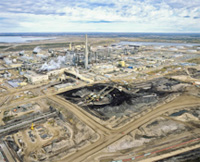 The refining or upgrading of the bitumen that lies under the Tar Sands consumes far more water and energy than conventional oil, and produces almost twice as much carbon. Photograph by Garth Lenz.
Canada's Tar Sands and the True Cost of Oil
Photographs by Garth Lenz
Garth Lenz's photography tells stories of environmental issues, threatened wilderness regions, devastation, and the impact on indigenous peoples. His work has appeared in leading publications such as Time Magazine, The Guardian, The New York Times, International Wildlife, BBC Wildlife Magazine, Canadian Geographic, GEO and others.
This series of photographs documents The Alberta Tar Sands, one of the world's most environmentally damaging and toxic projects. The Tar Sands represent the world's second largest source of oil and are America's single largest source of oil. Since September 11, 2001, the resulting high cost and demand for non-Middle Eastern oil energy by the US has promoted the creation of this massive development. The neighboring Peace Athabasca Delta, the world's largest freshwater delta, and the surrounding boreal forest, are being systematically destroyed to mine the tar that lies underneath
Click here to view the exhibit: http://socialdocumentary.net/exhibit/Garth_Lenz/1147
Honorble Mentions:
Metamorphosis: Images from the Arab World
Photographs by Michael Robinson Chávez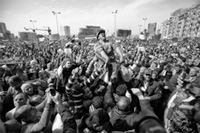 Jubilation filled the throngs of protesters that gathered in Tahrir Square to celebrate the fall of the Mubarak regime. The youth of Egypt felt empowered by their ability to change the course of their nation's history. How much of the region will follow their lead? Photograph by Michael Robinson Chávez
Michael Robinson Chávez has been a photographer at The Los Angeles Times since 2007. Prior to that, he worked for The Washington Post, The Boston Globe, and the Associated Press. He has covered wide-ranging international assignments in over 50 countries, including the civil war in Congo, the quakes and tsunamis in Indonesia and Chile, the Egyptian revolution, life in India's slums, gold mining in Peru, the 2006 Hezbollah/Israeli war, the Georgian/Russian war, and the US-led invasion and occupation of Iraq, among others.
This winning photography work documents the Arab world in a major state of flux—a new generation of youth are taking to the streets and cyberspace changing regimes in Tunisia and Egypt, and threatening other autocratic leaders in Yemen and Syria. These photographs are a small window into four countries that have experience tumultuous change since the September 11 attacks: Iraq, Israel/Palestinian Territories, Lebanon, and Egypt.
"It was a fascinating 9 years covering the region, and the next decade promises to be equally enlightening and challenging," said Chávez. Click here to view the exhibit: http://socialdocumentary.net/exhibit/Michael_Robinson_Chavez/1213
Modern Slaves of Dubai
Photographs by Florian Büttner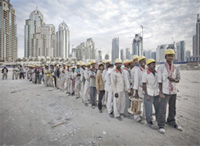 The workers are waiting for the bus to bring them back to the camp after a hard day of work in the heat of Dubai. Photo by Florian Büttner.
Florian Büttner is a Berlin-based freelance photographer. Since 2008, he has worked for several national and international magazines and newspapers, including GEO, GEO International, Maxim, Stern, Financial Times Germany, and others.
His winning work documents Dubai's luxurious architectural wonders that are only possible due to the sweat of a tremendous army of laborers from abroad, many from Pakistan. Thousands of these foreign workers labor on the construction sites for very low wages. They live in tiny barracks, separated from their families for many years. They exist in the shadows of the skyscrapers and are the cheapest on the market and most driven to abandon their rights to make a living.
"This is strong work and a very relevant statement about the last decade," said Yenkin. Click here to view the exhibit: http://socialdocumentary.net/exhibit/Florian_Buettner/1114
Unidentified Landscapes
Photographs by Michael Busse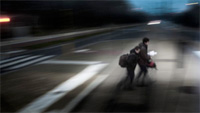 After School Photo by Michael Busse.
Michael Busse is a Berlin-based photographer and award-winning cinematographer for his documentary film work. He has also worked as a freelance journalist, filmmaker, and cameraman for various German public broadcasters as well as for French television.
These images depict an unidentifiable landscape of houses, container terminals, expressways, and beaches. A landscape of quick money and profitability. These are images of a disintegrating world where perspectives shift and people move about like mute consumers, succumbing to the dictates of the market place.
"These are thought-provoking images that speak to the world so many people are living in today."
—Lori Grinker.
"Beautiful, scary and intelligent, a pure celebration of photography."
—Tomasz Tomaszewski
Click here to view the exhibit: http://socialdocumentary.net/exhibit/michael_busse/1151
About SocialDocumentary.net:
SocialDocumentary.net (SDN) uses the power of photography to promote global awareness. SDN's global members include photographers, NGOs, journalists, editors, and students who create and explore documentary websites investigating critical issues facing the world today. Recent exhibits have explored oil workers in the Niger River Delta, male sex workers in India, Central American immigrant women during their journey north, and Iraqi and Afghan refugees in Greece. SND was launched in October 2008. Glenn Ruga is the founder. SDN is based in Concord. http://www.socialdocumentary.net/
---