The powerHouse Arena invites you to the Brooklyn book launch party for:
The Chairs Are Where the People Go
of The Trampoline Hall Lectures
featuring
Thursday, July 14, 7–9 PM
Doors: 6:30 PM
Admission $5
Purchase tickets here.
The powerHouse Arena · 37 Main Street (corner of Water & Main St.) · DUMBO, Brooklyn
For more information, please call 718.666.3049
rsvp: rsvp@powerHouseArena.com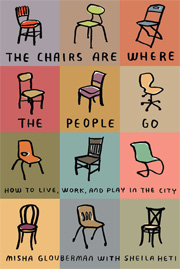 "Sheila Heti is the patron saint of raconteurs. Misha Glouberman is a raconteur. The result is a compendium of riffs on a variety of interesting subjects. Misha stays serious throughout. Sheila stays calm. The result is very funny."
—DAVE HICKEY, author of The Invisible Dragon and Air Guitar
Misha Glouberman and Sheila Heti stop by The Arena for an event that's part book launch, part Trampoline Hall Tour with Sara Marcus and Adam Sternbergh. $5 gets you admission and $5 off the purchase of the book. Advance tickets highly recommended.
About The Chairs Are Where the People Go:
Should neighborhoods change? Is wearing a suit a good way to quit smoking? Why do people think that if you do one thing, you're against something else? Is monogamy a trick? Why isn't making the city more fun for you and your friends a super-noble political goal? Why does a computer last only three years? How often should you see your parents? How should we behave at parties? Is marriage getting easier? What can spam tell us about the world?
Misha Glouberman's friend and collaborator, Sheila Heti, wanted her next book to be a compilation of everything Misha knew. Together, they made a list of subjects. As Misha talked, Sheila typed. He talked about games, relationships, cities, negotiation, improvisation, Casablanca, conferences, and making friends. His subjects ranged from the sublime to the ridiculous. But sometimes what had seemed trivial began to seem important—and what had seemed important began to seem less so.
The Chairs Are Where the People Go is refreshing, appealing, and kind of profound. It's a self-help book for people who don't feel they need help, and a how-to book that urges you to do things you don't really need to do.
About Trampoline Hall:
Trampoline Hall is a lecture series, created by Sheila, where people lecture on subjects of their own choosing, but outside their area of expertise, followed by questions from the audience. It has played to consistently sold-out houses in its home town of Toronto for several years, and has delighted audiences across North America. Misha is the host.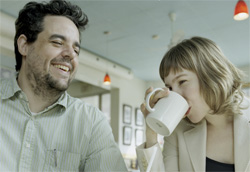 About the speakers:
Misha Glouberman is a performer, facilitator, and artist who lives in Toronto. He is, with Sheila Heti, the author of The Chairs Are Where the People Go: How to Live, Work, and Play in the City (Faber & Faber, July 2011).
Sheila Heti is the author of three books of fiction: The Middle Stories, Ticknor, and How Should a Person Be? Her writing has appeared in The New York Times, McSweeney's, n + 1, and The Guardian. She works at The Believer as Interviews Editor.

Sara Marcus's prose and poetry have appeared in publications including Artforum, Bookforum, Slate, Salon, The San Francisco Chronicle, Death, and EOAGH. Her first book, Girls to the Front: The True Story of the Riot Grrrl Revolution, was published in 2010. She is a founding editor of New Herring Press.

Adam Sternbergh is an author, journalist and co-founder of FameTracker.com. He is a frequent contributor to New York Magazine, and co-wrote the book Hey! It's That Guy! He is an editor at The New York Times Magazine. He will be speaking on "Keeping People Quiet."
---