The powerHouse Arena invites you to an NYC Pride Week Event:
The L Life:
Extraordinary Lesbians Making a Difference
Thursday, June 23, 7–9 PM
Light refreshments will be served
The powerHouse Arena · 37 Main Street (corner of Water & Main St.) · DUMBO, Brooklyn
For more information, please call 718.666.3049
rsvp: rsvp@powerHouseArena.com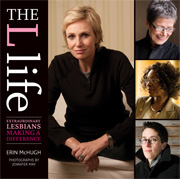 Join author Erin McHugh and celebrated journalist Linda Villarosa for this special powerHouse Arena Pride Week event! McHugh will read from her book The L Life, and she and Villarosa will discuss their experiences within the LGBT, movement and their hopes for the future. Villarosa is one of 27 women featured in McHugh's recently released book The L Life: Extraordinary Lesbians Making a Difference.
About The L Life:
There have been few cultural touchstones that have opened people's eyes to everyday lesbian life, until now. Through fascinating interviews and stunning portrait photography, The L Life introduces us to the very women who are changing our view of the world. Called an "essential hardcover tribute" (The Advocate) and "a dose of inspiration" (Ms. Magazine), this is one book "that should be your radar for upcoming gift giving opportunities such as Gay Pride" (Curve).
Erin McHugh uncovers rich stories of lesbians from all walks of life, capturing the incredible bravery and passion of ordinary people and celebrities alike. Breast cancer researcher and bestselling author Dr. Susan Love is featured, as well as groundbreaking authors Alison Bechdel and Ann Bannon. Comedian Kate Clinton, Congresswoman Tammy Baldwin, longtime activist Phyllis Lyon, and award-winning film producer Christine Vachon are all a part of this gorgeous tribute. The L Life is a beautiful gift for anyone interested in these important women who are making a difference.
About the speakers:


Erin McHugh is a former publishing executive and the author of nineteen books, including the five-volume series The Portable Queer. She lives in New York City and South Dartmouth, Massachusetts.

Linda Villarosa is a freelance writer and editor. She is a former editor of both The New York Times and Essence Magazine, where she wrote a number of award-winning articles. The author of Body & Soul: The Black Women's Guide to Physical Health and Emotional Well-Being, a Blackboard Bestseller, Linda has also written several other books. She lives in Brooklyn, New York, with her partner and two children.
---