The powerHouse Arena invites you to the Brooklyn book launch party for:
Tabloid City
Wednesday, June 8, 7–8:30 PM
Drinks will be served
The powerHouse Arena · 37 Main Street (corner of Water & Main St.) · DUMBO, Brooklyn
For more information, please call 718.666.3049
rsvp: rsvp@powerHouseArena.com
The New York Times bestselling author and godfather of New York tabloids reads from his newest, a thriller set in the roiling 24 hours that follow the death of a wealthy socialite and her secretary in New York City.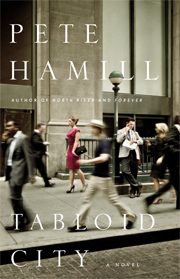 About Tabloid City:
Tabloid City by Pete Hamill chronicles the extraordinary drama of one fateful day in the greatest city in the world. The novel opens with a sensational double murder: socialite Cynthia Harding and her personal secretary, Mary Lou Watson, are found stabbed to death in Harding's exclusive Manhattan town house. In the twenty-four hours that follow, their shocking deaths generate a storm of activity.
Sam Briscoe, the gruff, 71-year-old editor of the fictional New York World, stops the presses. Meanwhile, an NYPD detective investigates the killings. A bold young reporter chases the scoop. A disgraced hedge-fund manager tries to flee the country. An Iraq veteran seeks payback. A desperate immigrant turns to her last resort. And an angry extremist plots a deadly attack.
These characters and more are affected by the gruesome tragedy, and their paths intersect in surprising ways. Their stories range all over New York, from the swank Upper East Side to a Brooklyn tenement, from the legendary Chelsea Hotel to the glossy new nightclubs of the Meatpacking District, time-stamped in just one day. For them, New York City is many things: a decadent carnival, a palimpsest of memories, the culmination of their worst fears, or the launching point for all their dreams.
As much a thriller as a kaleidoscopic portrait of today's metropolis, Tabloid City is a new classic from the writer whose "inspired descriptions of contemporary Manhattan are as pitch-perfect as only love and understanding, and possibly grief, can engender" (Boston Globe).
About the Author:
Pete Hamill is a novelist, journalist, editor, and screenwriter. He is the author of twenty previous books, including the bestselling novels Forever and Snow in August, and the bestselling memoir A Drinking Life. He lives in New York City.
---