"Whatever else you encounter in this world of words—passages of sci-fi here, a bit of formal play over there—you can count on finding elegy. Smith's new collection radiates with so many different emotions—and yet, all poems ring with loss. Life on Mars is glorious."
–Kimiko Hahn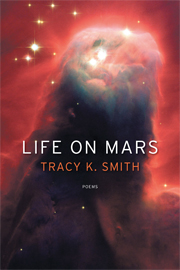 Laughlin Award winner Tracy K. Smith comes to powerHouse Arena to celebrate the launch of her new poetry collection, Life on Mars, with a DJ and refreshments. Smith will be introduced by poet James Richardson.
About Life on Mars:

With allusions to David Bowie and interplanetary travel, Life on Mars imagines a soundtrack for the universe to accompany the discoveries, failures, and oddities of human existence. In these brilliant new poems, Tracy K. Smith imagines a sci-fi future sucked clean of any real dangers, contemplates the dark matter that keeps people both close and distant, and revisits kitschy concepts like love and illness, now relegated to the Museum of Obsolescence. These poems reveal the realities of life lived here, on the ground, where a daughter is imprisoned in the basement by her own father, where celebrities and pop stars walk among us, and where the poet herself loses her father, one of the engineers who worked on the Hubble Telescope. With this remarkable third collection, Smith establishes herself as among the best poets of her generation.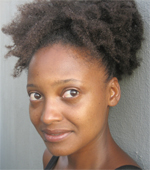 About the Author:

Tracy K. Smith is the author of two previous collections: Duende, winner of the James Laughlin Award and the Essence Literary Award, and The Body's Question, winner of the Cave Canem Poetry Prize. She is also the recipient of the Rona Jaffe Foundation Writers' Award and a Whiting Writers' Award, and was a finalist for the NAACP Image Award for Outstanding Literary Work. Smith is currently a protégé in the Rolex Mentor and Protégé Arts Initiative, and a member of the Creative Writing Faculty at Princeton University. She lives in Brooklyn, New York.
---