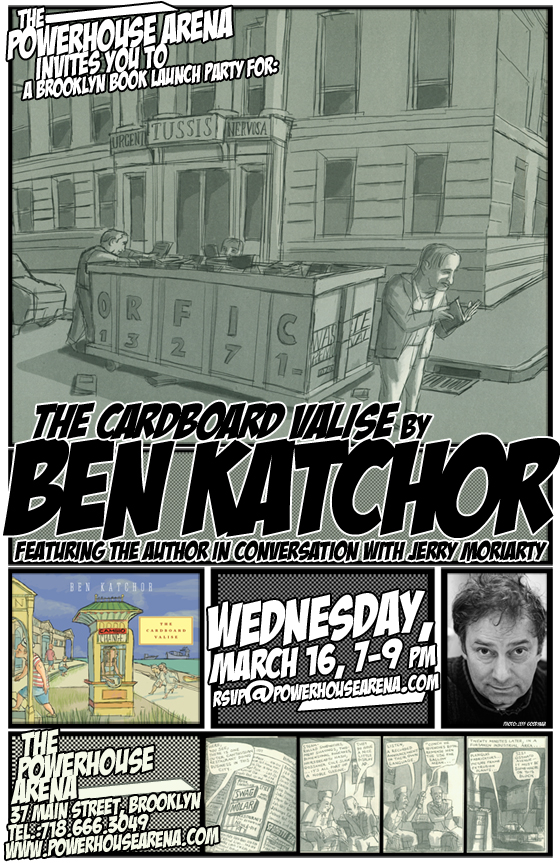 The powerHouse Arena invites you to the Brooklyn book launch party for:



The Cardboard Valise

by Ben Katchor

Featuring the author in conversation with Jerry Moriarty


Wednesday, March 16, 7–9

PM





Drinks will be served



The powerHouse Arena · 37 Main Street (corner of Water & Main St) · DUMBO, Brooklyn
For more information, please call 718.666.3049
rsvp: rsvp@powerHouseArena.com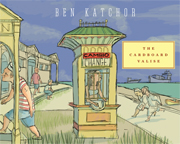 "In this winsomely haunting graphic novel from Katchor... an overstuffed suitcase becomes a ripe, comic metaphor for modern life. Rarely have books that made this little sense made so much sense.
—Publishers Weekly, starred review

About The Cardboard Valise:

Ben Katchor ("The creator of the last great American comic strip."—Michael Chabon) gives us his first book in more than ten years: The Cardboard Valise, the story of the fantastical nation of Outer Canthus and the three people who, in some way or another, in­habit its shores.

Emile Delilah is a young xenophile so addicted to traveling to the exotic regions of Outer Canthus that the government pays him a monthly stipend just so he can continue his visits. Liv­ing in the same tenement as Emile are Boreal Rince, the exiled king of Outer Canthus, and Elijah Salamis, a supranationalist determined to erase the cultural and geographic boundaries that separate the citizens of the Earth. Although they rarely meet, their lives in­tertwine through the elaborate fictions they construct and inhabit: a vast panorama of humane hamburger stands, exquisitely ethereal ethnic restaurants, ancient restroom ruins, and wild tracts of land that fit neatly next to high-rise hotels.

The Cardboard Valise is a graphic novel as travelogue; a canvas of semi-surrealism; and a poetic, whimsical, beguiling work of Ben Katchor's dazzling imagination.



About the Participants: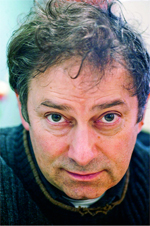 Ben Katchor is the author of The Jew of New York; Julius Knipl, Real Estate Photographer; The Beauty Supply District; and, several works of musical theater in collabora­tion with the composer Mark Mulcahy. He teaches at Par­sons The New School for Design and has contributed to The New Yorker, The Forward, and Metropolis. The first car­toonist to receive a MacArthur Fellowship, he is the subject of a documentary titled The Pleasures of Urban Decay. He lives in New York.

Jerry Moriarty is an artist and the author of The Complete Jack Survives, published with Buenaventura Press in 2009. Moriarty had his first one-man show in SoHo in 1974. Since then he has exhibited work in Chelsea, the SVA Museum, and the CUE Art Foundation.
---