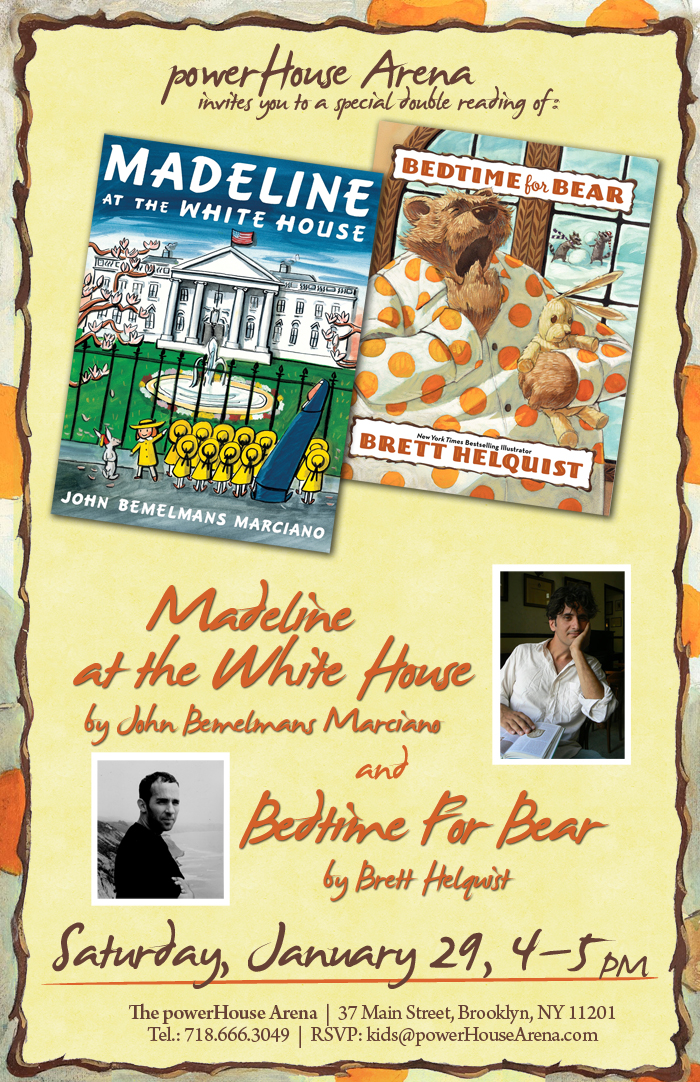 The powerHouse Arena is pleased to invite you to a special double kids' reading:
Madeline at the White House
by John Bemelmans Marciano

and
Bedtime for Bear
by Brett Helquist
Saturday, January 29, 4–5

PM



The powerHouse Arena
37 Main Street (corner of Water & Main St.) · DUMBO, Brooklyn
For more information, please call 718.666.3049
rsvp: kids@powerHouseArena.com


We've got an exciting double-bill coming up at the powerHouse Arena: celebrated illustrators John Bemelmans Marciano and Brett Helquist will read from their respective books Madeline at the Whitehouse and Bedtime for Bear.
About Madeline at the Whitehouse:

In Madeline at the Whitehouse, Madeline and the other eleven little girls have a new destination: the White House. They are the guests of Candle, the lonely only daughter of the President, arriving just in time for the annual Easter Egg Roll. On the last night of the visit, Madeline and Candle stay up late playing dress up, dancing, and telling scary stories, and top off the evening with a magical nighttime tour of the capital's most famous landmarks, including the Lincoln Memorial, the Capitol Building, the Washington Monument, and the Jefferson Memorial. Madeline and Candle return home to the White House just in time for the twelve little girls in two straight lines to say "Au revoir, America!"

About Bedtime for Bear:


Bedtime for Bear is an original new bedtime book from New York Times bestselling illustrator and celebrated artist Brett Helquist.

Wintertime is here, and that means it is bedtime for Bear. But Bear's friends don't think so. They want Bear to come and play outside in the snow. He can hear them laughing, and playing and now he can't sleep. But it's bedtime!
What is a bear to do? Filled with wondrous winter scenes and cozy art, Helquist's story and illustrations convey all the excitement of a fun day in the snow!

About the Authors:

John Bemelmans Marciano is a self taught illustrator like his grandfather, Madeline creator Ludwig Bemelmans. He grew up on a horse farm in Three Bridges, New Jersey, and attended Columbia University in New York City. He lives in Brooklyn with his wife and their daughter.

Brett Helquist's celebrated art has graced books from the charming Roger the Jolly Pirate to the alarming New York Times bestselling A Series of Unfortuante Events by Lemony Snicket. Mr. Helquist was born in Ganado, Arizona, and grew up in Orem, Utah. He earned his bachelor's degree from Brigham Young University, and has been illustrating ever since. He lives in Brooklyn, NY.