The powerHouse Arena is pleased to invite you to a book launch party for:
Whiter Shades of Pale: The Stuff White People Like, Coast to Coast, from Seattle's Sweaters to Maine's Microbrews
by Christian Lander
Book Launch Party, Reading, and Signing
Tuesday, November 23, 7–9

PM



The powerHouse Arena · 37 Main Street (corner of Water & Main St.) · DUMBO, Brooklyn
For more information, please call 718.666.3049
rsvp: rsvp@powerHouseArena.com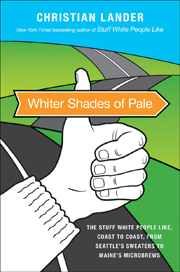 In 2008, Christian Lander founded the blog Stuff White People Like, a wickedly funny "study" of upper-middle-class white people, and then went on to write the bestselling book by the same name. Lander has since traveled the nation, speaking about the book and obtaining further knowledge of the white people of America. His travels around the country helped him realize that as much as all white people were the same, in many ways they are slightly, superficially different. But then again, there are few things that white people like more than slight, superficial differences!
About the book:

Full of the same provocative humor about modern, white culture (a world many Americans can relate to no mater what their ethnic background), that has made Stuff White People Like the blog and book so successful, Whiter Shades of Pale: The Stuff White People Like, Coast to Coast, from Seattle's Sweaters to Maine's Microbrews features more than 100 brand new entries as well as region-by-region breakdowns with illustrations of the differences that make white people hilariously and ridiculously proud of where they're from. From the college towns of the Midwest, to the music festivals of Tennessee, and everywhere in between, Whiter Shades of Pale will finally expose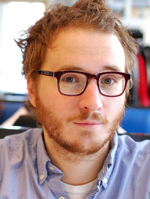 America's white people, and readers will learn, hilariously, exactly what it means to be white in the USA.

Read an interesting New York Times feature about the book.
About the author:

Christian Lander is the creator of the website Stuff White People Like which now has over 71 million hits. His book based on the blog spent 14 weeks on the New York Times bestseller list. He is a Ph.D. dropout who was the 2006 public speaking instructor of the year at Indiana University. He has lived in Toronto, Montreal, Copenhagen, Tucson, Indiana, and now Los Angeles, where he lives with his wife, Jess, a photographer who contributes many of the photos in his work.
---