The powerHouse Arena is pleased to invite you to an emotional cook-off:



Eat Your Feelings by Heather Whaley

Wednesday, September 30, 2009, 7–9

PM


The powerHouse Arena
37 Main Street, Brooklyn
For more information: (718) 666-3049
RSVP: rsvp@powerhousearena.com
Whether you've been dumped, fired, or found naked pictures of yourself online, actress and playwright Heather Whaley has the comfort food recipe for your emotional roller coaster. The powerHouse Arena is excited to be hosting the first-ever Eat Your Feelings emotional cook-off. Prizes will be awarded for the best home-made dishes from the book. Think you can make a mean Hamburger Casserole For When Nobody Loves You and Never Will? How about the fixin's for Foreclosure Fiesta, or the Drunk and Disorderly Donut Pudding? Featuring MC and guest judge John DeLucie, executive chef and partner of the Waverly Inn and author of The Hunger. Both authors will sign books for sale. Wine will be provided by Bear Flag.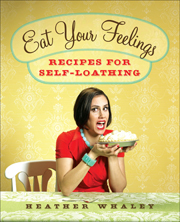 About Eat Your Feelings:
Still pining over an ex who broke your heart or moping after being fired from a dead-end job? Whether you've been dumped or fired, still living at home at the age of 45 or just realized that your dreams will never come true, Heather Whaley collects the perfect comfort foods necessary to navigate any of life's little pitfalls in Eat Your Feelings: Recipes For Self-Loathing.

Covering every category of misery—aging, betrayal, disappointment, family relations, injustice—Eat Your Feelings is a comical, tongue-in-cheek collection that reminds us that unlike fair-weather friends and reliable sources of income, food will always be there for you. Including commentary and photos that add the perfect punch, Heather provides the needed comfort food and emotional support for any anguish. A sampling:


Hamburger Casserole for When Nobody Loves You and Never Will: In addition to ground beef and a box of egg noodles, you will need a DVD of Kramer vs. Kramer.
Who's the Daddy? Flapjacks: Ingredients call for flour, butter, sugar, eggs, milk, salt, vanilla, and saliva from each possible daddy, as well as a DNA testing kit.
Bad Botox Bolognese: Heat oil in a large pot over a medium-high flame. Do not attempt to save money on silicone by injecting oil into face, as it will lead to excessive plumping.
Home Fries for the Uninsured: Wear flame-retardant clothing, as skin grafts are extremely costly, pour enough oil to coat a skillet and warm over medium-high heat.
Eat Your Feelings is not only a cookbook but a book that confounds life's little dramas with wit and brevity. You'll want it in your kitchen when searching for the perfect recipe to fill any void.

About Heather Whaley:
Heather Whaley is an actress, writer, and lifelong eater. Her play Social Note was the first play to appear in the storied Oak Room of the Algonquin Hotel. I Will Not Marry Anthony Porter! will have its Off-Broadway premiere in 2009. Her television pilot, Sharon Shaw, is being developed for Lifetime, and her film project, Adult Children of Divorce, will go into production later this year. She lives in New York City with her husband and two children.







About The Hunger:
When The Waverly Inn restaurant opened in 2007 on a quiet corner in New York City's West Village, it became the place to be—if you could get in. With no listed phone number to make reservations, a veritable list of who's who filling the tables, and rave culinary reviews, it was nearly impossible to score a reservation. Now, in The Hunger: A Story of Food, Desire and Ambition, executive chef/partner John DeLucie takes you behind-the-scenes from the tiny kitchen to the front of the house to outside the restaurant where the paparazzi gather, and chronicles the twists and turns of his journey to his ultimate dream job.

The Hunger is not only a look inside one of the hottest restaurants in the country, it's also DeLucie's page-turning story about how he ditched the security of a nine-to-five office job to follow his dream of becoming a chef. From his first (and only) cooking class at The New School in New York, through all the restaurant jobs that followed, we trail him for 15 years as he works his way through major challenges and a roller-coaster personal life to land the job of a lifetime. Woven throughout are hilarious stories of the snafus that happen at restaurants with alarming regularity, an insider's look at outlandish celebrity requests, and how the truffle mac 'n cheese came to be on the menu, as well as some of DeLucie's signature recipes.

About John DeLucie:
John DeLucie has been featured in The New York Times, New York Magazine, Town & Country, and on television on Martha Stewart, The Today Show, and The Early Show. John has contributed food and entertaining columns for Gotham magazine and has also written for The New York Times and Black Book magazine. He is a New York native, attended New York University, and lives steps away from The Waverly Inn.




For more information, please contact Jeff Beardsley, Events Coordinator
jeff@powerHouseArena.com


powerHouse Books | powerhouse arena
37 Main St. Brooklyn, NY 11201
1(718)666-3049

For more information, please contact:
Press, Craig Cohen, Executive Publisher
Sales, Wes Del Val, Sales Director
Arena, Customer Information and Event Inquiries

© Copyright 2009 powerHouse Arena