The powerHouse Arena invites you to a reading and signing
Europe on 5 Wrong Turns a Day:
One Man, Eight Countries, One Vintage Travel Guide
Wednesday, April 18, 7–9 pm

The powerHouse Arena · 37 Main Street (corner of Water & Main St.) · DUMBO, Brooklyn
For more information, please call 718.666.3049
rsvp: rsvp@powerHouseArena.com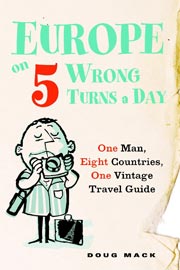 In this unconventionally conventional travel memoir, Europe on 5 Wrong Turns a Day, Doug Mack uses a 47-year-old guidebook to lead him through Europe.
About Europe on 5 Wrong Turns a Day:
Enough with the road less traveled. Quaint towns, remote valleys, and "the Europe no one knows about" have become tediously familiar destinations in modern travel writing. Europe on 5 Wrong Turns a Day: One Man, Eight Countries, One Vintage Travel is the story of straight-up, cliché-ridden tourism. It's a journey firmly on the beaten path, and an exploration of how the path got so beaten in the first place.
Mack stumbles on an inspired idea when he picks up a 47-year-old edition of Arthur Frommer's classic travel guide Europe on Five Dollars a Day. He decides to go where millions have gone before, but with a hopelessly outdated guidebook nearly a half a century old. The result is a funny and fascinating journey into a new (old) world, and a disarming reflection on this ways this experience has and hasn't changed in the last generation.
Along the way, Doug gets lost in "the Piazza della Sketchiness" in Florence and crashes the world's largest human mosaic in Madrid. He discovers the Louvre is no longer free on Sundays, and the guards aren't pleased if you try to sneak in. He gets stalked by men in Mozart costumes in Vienna, and stays in a hotel in Rome that is the very definition of lost glamour, a place where Elizabeth Taylor stayed in the 1960s, which is now a shabby shadow of its former self.
He also discovers the surprising joys of staying firmly on the beaten path, how to find the hidden, unexpected delights in the midst of the crowds, and how to just stop worrying and love the clichés. He learns that the beaten path is always changing, and that sometimes, Frommer—who is much like a character out of Mad Men—leads him away from the tourist crowds and to quieter neighborhoods.
Spanning eight countries and spending far more than five dollars a day, Mack delivers an endearing and utterly unique version of armchair time travel.
About Doug Mack:
Doug Mack has written for The Minneapolis Star Tribune, The San Francisco Chronicle, WorldHum.com, and other publications. He is based in Minneapolis with a digital home at www.douglasmack.net.
---