The powerHouse Arena invites you to the book launch party for:
Beautiful Trouble:
A Toolbox for Revolution
assembled by
Thursday, April 5, 7–9 pm
Drinks will be served

The powerHouse Arena · 37 Main Street (corner of Water & Main St.) · DUMBO, Brooklyn
For more information, please call 718.666.3049
rsvp: rsvp@powerHouseArena.com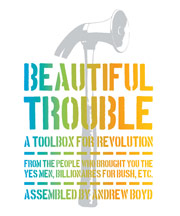 Andrew Boyd and Dave Oswald Mitchell present their guide to creative protest here at powerHouse Arena for an evening devoted to revolutionary pranktivism, featuring talks by contributors and a radical fashion show.
About Beautiful Trouble:
Prank websites. Militant carnivals. Flash Mobs. Virtual sit-ins. Guerrilla musicals.
From Cairo to cyberspace, from Main Street to Wall Street, today's social movements have a creative new edge. Social activism in the digital age is melding prank and PR, blurring the boundaries between artist and activist, direct action protest and pop art. These principles that make for successful creative action are more common today than we realize—the recent Wikipedia blackout in protest of #SOPA is one of many prominent examples—but their foundations rarely get hashed out or written down.
Until now. In the irreverent, activist tradition of Steal This Book and The Anarchist Cookbook comes Beautiful Trouble.
In Beautiful Trouble, seasoned pranktivist Andrew Boyd assembles the accumulated wisdom of decades of creative protest in order to place it in the hands of the next generation of change-makers. Part manifesto and part reference guide, Beautiful Trouble is the anti-textbook—a dynamic, 21st century how-to that brings together ten grassroots groups and dozens of seasoned artists and activists from around the world. Among the groups included are Agit-Pop/The Other 98%, The Yes Men/Yes Lab, Code Pink, SmartMeme, The Ruckus Society, Beyond the Choir, The Center for Artistic Activism, Waging Nonviolence, Alliance of Community Trainers, and Nonviolence International.
Beautiful Trouble is not another how-to manual; it's a how-to-think manual. In the shadow of austerity and ecological crisis, the urgency of this political moment demands resources that will transform outrage into effective action.
About the authors:
Andrew Boyd is an author, humorist, and twenty-five-year veteran of creative campaigns for social change. He led the decade-long satirical media campaign "Billionaires for Bush." He co-founded Agit-Pop Communications, an award-winning "subvertising" agency, and the netroots movement The Other 98%. He's the author of three books: Daily Afflictions, Life's Little Deconstruction Book, and the creative action manual The Activist Cookbook. You can find him at andrewboyd.com.
Dave Oswald Mitchell is a writer, editor, and researcher. He edited the Canadian activist publication Briarpatch Magazine from 2005 to 2010, and his writing has been published in Rabble, Reality Sandwich, Rolling Thunder, and Upping the Anti.
---