The powerHouse Arena invites you to the book launch party for:
The Social Media Reader
featuring
Monday, April 2, 7–9 pm
Drinks will be served

The powerHouse Arena · 37 Main Street (corner of Water & Main St.) · DUMBO, Brooklyn
For more information, please call 718.666.3049
rsvp: rsvp@powerHouseArena.com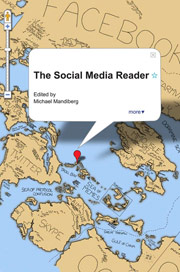 The powerHouse Arena presents the launch of The Social Media Reader, a collection of essays exploring the rise of a participatory culture that blurs the boundaries between creator and audience. The book features key essays from the major authors in the field, including Chris Anderson, Yochai Benkler, danah boyd, Henry Jenkins, Lawrence Lessig, Tim O'Reilly, Jay Rosen, Clay Shirky, and Siva Vaidhyanathan. The Social Media Reader editor Michael Mandiberg will be joined by Ceci Moss and David Horvitz to discuss social media and its relationship to art on and off the web, and articulate a theory of post-internet art—creating and replicating a few memes in the process.
About the speakers:
David Horvitz is a Brooklyn-based artist, known for his often bizarre and absurdist DIY instructional projects, and work on Wikipedia. He has published many pamphlets and artist books, including Everything That Can Happen in a Day. He has exhibited widely, including shows at Art Metropole, the Or Gallery, and the New Museum. His projects live at davidhorvitz.com.
Michael Mandiberg is an artist and Associate Professor of Media Culture at the College of Staten Island/CUNY, and Doctoral Faculty at the City University of New York's Graduate Center. He is the coauthor of Digital Foundations and Collaborative Futures. His work can been accessed via Mandiberg.com.
Ceci Moss is a freelance writer, musician, DJ, curator, and academic. She is a PhD candidate and an Adjunct Instructor in the Department of Comparative Literature at New York University. Her research addresses contemporary internet-based art practice, digital technology and perception, the materiality of media, postmodernism, and digital art preservation. For more visit: amillionkeys.com
---