The powerHouse Arena invites you to a signing and discussion of:
Vegetables
featuring the author in conversation with
Wednesday, March 28, 7–9 pm
Drinks will be served

The powerHouse Arena · 37 Main Street (corner of Water & Main St.) · DUMBO, Brooklyn
For more information, please call 718.666.3049
rsvp: rsvp@powerHouseArena.com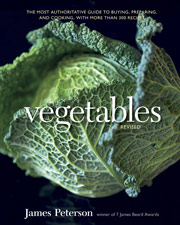 James Peterson discusses and signs this revised version of his acclaimed cookbook, which features new recipes and 500 full-color photos, with famed baker Nick Malgieri.
About Vegetables:
James Peterson's cookbooks have amassed a staggering seven James Beard Awards and two IACP culinary awards. Many of his fifteen cookbooks have been used as texts at some of the most prestigious culinary schools in the U.S. Fourteen years ago, Peterson's Vegetables was published, winning a James Beard Award and selling more than 100,000 copies. Peterson has substantially revised Vegetables, adding 50 new recipes, 30 more vegetable entries, and a new section devoted to herbs. Most importantly, Peterson has expanded our understanding of buying, preparing, and serving vegetables through the lens of his camera. The first edition featured several inserts of color photos. The new Vegetables features 500 illustrative, full-color photographs, making it the equivalent of an over-the-shoulder master class on the subject.
Lots of things have changed in the culinary world since Vegetables was first published. Americans have broadened their choices from the more traditional European-influenced cuisine, and have embraced "the direct flavors, bold variations in texture and bright colors of Asian cooking," writes Peterson in his Introduction. With his trademark approach to a single subject (Sauces, Meat, Baking, Splendid Soups), Peterson immerses himself into unraveling the "the mysteries of Asian vegetables. At the same time I decided to include simple new ways (new to us but traditional in other places) to cook less-familiar vegetables, such as kale, Swiss chard, fennel and escarole."
While Vegetables offers numerous ways to cook our favorites—corn, broccoli, potatoes, tomatoes, artichokes, and green beans—cooks are making plenty of room for less familiar vegetables that are taking up increasing space at the supermarket, food-co-ops, and farmer's markets. James Peterson offers equally tempting and flavorful ways to enjoy bok choy, cactus pads, chayote, lemon grass, plaintains, and purslane.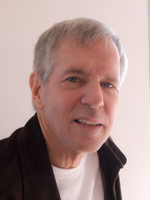 About James Peterson:
A native of San Diego, James Peterson attended the University of California to study chemistry. He dropped out to travel and work around the world. He fell in love with the food in Paris, and eventually apprenticed in a number of Michelin-starred restaurants before returning to the U.S. In 1980, he joined Le Petit Robert in Manhattan's Greenwich Village, which received outstanding reviews during his tenure there. In 1984, he closed the restaurant. Peterson began to receive offers to teach, and joined the faculty of the French Culinary Institute. Soon he was in demand as a teacher all over the country. Sauces, published in 1991, won the James Beard Award as best cookbook for that year. Fourteen books have followed, to great critical acclaim and often prizes. To date, every one of his cookbooks has at least been nominated for a major culinary award. His passion for photography has manifested itself in adding a key element to his books. Today, James Peterson's photographs are not only an important part of his cookbooks, they are seen in magazines, and in other cookbooks. He and his partner live in Brooklyn, where Peterson also has a studio.
About Nick Malgieri:
Nick Malgieri, former Executive Pastry Chef at Windows on the World and 1996 inductee into Who's Who of Food and Beverage in America, is currently director of the baking program at the Institute of Culinary Education. His most recent title, BAKE!, was published by Kyle Books in 2010. The author of nine other cookbooks, including the James Beard winner How to Bake and the IACP/Julia Child Cookbook award-winner Chocolate, Nick's recipes have been published widely, including in The New York Times, The Chicago Tribune, The Washington Post, Food & Wine, Gourmet, and Bon Appétit. He is a contributing editor of Dessert Professional and writes a monthly column for Tribune Media Services. Nick has appeared on national morning shows and local television throughout the United States, as well Food Network and Martha Stewart. Visit him online at www.nickmalgieri.com.
---