The powerHouse Arena invites you to a reading and discussion:
The One:
The Life and Music of James Brown
featuring the author in conversation with Dave Tompkins
Thursday, March 22, 7–9 pm
Drinks will be served

The powerHouse Arena · 37 Main Street (corner of Water & Main St.) · DUMBO, Brooklyn
For more information, please call 718.666.3049
rsvp: rsvp@powerHouseArena.com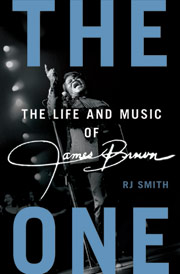 Los Angeles-based music critic R.J. Smith reads and discusses his new biography on the Godfather of Soul with writer Dave Tompkins.
About The One:
In the early 1970s, a PolyGram Records press release announcing the signing of James Brown provided these remarkable statistics:
"James Brown will perform 335 days this coming year, losing as much as seven pounds each performance. In an average month, he will give away 5,000 autographed photos and 1,000 pairs of James Brown cuff links. He will wear 120 freshly laundered shirts and more than eight pairs of shoes. He will change his performing costume 150 times and will work over eighty hours on the stage, singing, dancing and playing at least 60 songs on one of more than eight instruments."
According to The One: The Life and Music of James Brown, R.J. Smith's riveting biography of the Godfather of Soul, the energy and tenacity described here can be applied to nearly all of Brown's 50-year career, and makes clear why he was known as "the hardest working man in show business." But how did Brown develop into this force of nature and what drove him to perform at such exhaustive levels night after night, year after year, even into his 70s, when he could have coasted as a legacy act?
In The One, Smith, an award-winning author and journalist, seeks to answer that question, delving into Brown's painful and lonely childhood, his evolution as a performer, the sources that influenced his unique, unforgettable style, his family life, his forays into politics, civil rights and business, and, most of all, his role as leader of the ever-evolving organism at the center of his life—his band. To understand Brown, Smith suggests, one needs to understand the "One." Among musicians and fans, the "One" was almost a trade secret—a type of beat with roots in slave rebellions and New Orleans funeral parades—that was responsible for much of the James Brown sound. For Brown it was a way of existence, a philosophy for surviving and succeeding, musically and otherwise.
That will power also made Brown a difficult man to work for and live with. In the best light, Brown was a strict disciplinarian and taskmaster who brought the best out of his band. In the worst, he was a bully, an abuser, a womanizer, an absent father, and finally, a drug addict. Still, Smith asserts, Brown was a musical genius, who should have been considered a greater talent than his white rock-and-roll counterpart, Elvis Presley, but wasn't, because the one time his will failed him was in making America love him as much as it did Elvis.
The One provides a detailed history of rhythm and blues during the James Brown era—how he shaped it and was shaped by it, insider anecdotes detailing the evolution of the James Brown sound and its songs, from his first hit "Please, Please, Please," to the black power anthem "Say It Loud," the patriotic "America is My Home," to the controversial crossover hit theme to Rocky IV, "Living in America"—and the sense of being front and center at a sweat-drenched, heart-pounding, "One"—dominated James Brown show.
Smith also details Brown's importance as an icon of black culture during the tumultuous 60s and 70s, including his encounters with Martin Luther King, Jr., his coincidental, Zelig-like presence during significant turning points of the civil rights movement, and his seemingly ambivalent support of its causes. According to Smith, "The idea of a mass movement, of an appeal based on shared beliefs rather than on superior individuality, was not in Brown's makeup." Once an established star, Brown sought out political leaders and presidents, from Johnson to Nixon to Clinton, with mixed results, sometimes supporting their causes and sometimes seeking their intervention in his tax issues. Whom Brown chose to support continually surprised his fans and the black community and helped create the aura of mystery that surrounds him to this day.
For Brown fans, music and pop culture aficionados alike, The One is a fascinating account of a controversial and significant American icon, steeped in the musical and cultural history of his time.
About the Author:
Dave Tompkins, a former columnist for The Wire, writes frequently about hip-hop and popular music. His work has appeared in Vibe, The Village Voice, The Believer, and Wax Poetics. As a child growing up in North Carolina, he wrote stories about Mud Men, shot football cards with his dad's .38, and was forced into speech therapy. His grandfather ate the microfilm, somewhere over Moscow.
---