The powerHouse Arena invites you to a magazine launch party for:
The Literary Review:
The Lives of the Saints
featuring
Danielle Blau
Adam Wilson
&
Priscilla Becker
Tuesday, March 20, 7–9 pm
Drinks will be served

The powerHouse Arena · 37 Main Street (corner of Water & Main St.) · DUMBO, Brooklyn
For more information, please call 718.666.3049
rsvp: rsvp@powerHouseArena.com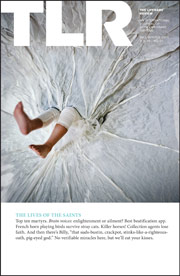 Join TLR at powerHouse Arena to celebrate the launch of the Fall/Winter 2011 issue, The Lives of Saints! The festivities begin at 7 pm with readings by TLR contributors Priscilla Becker, Danielle Blau, and Adam Wilson, followed by cocktails and conversation until 9.
About the readers:
Danielle Blau's poems, short stories, articles, and interviews have been published in The New Yorker Book Bench blog, The Atlantic online, Black Clock, The Wolf, Unsaid, in the recently released anthology Why I Am Not A Painter: A Gathering of Poems by MFA Students in NYC. Four of her poems appear in TLR's Fall/Winter 2011 The Lives of Saints. Blau is an MFA candidate in poetry at NYU and lives in New York City.
Adam Wilson's stories have been printed in The Paris Review, The Coffin Factory, and The New York Tyrant. His first novel, Flatscreen, was published by Harper Perennial in February 2012. His short story, "Tell Me," appears in TLR's Fall/Winter 2011 The Lives of Saints. He has been a finalist for Glimmer Train story prize three times, and was also a finalist for the 2009 Canteen Prize and the 2009 Gulf Coast Prize. Wilson holds an MFA from Columbia University and lives in Brooklyn.
Priscilla Becker's poems have been published in Fence, Open City, The Paris Review, Boston Review, Raritan, Passages North, The Swallow Anthology of New American Poets, Verse, and The Brooklyn Rail. In 2003, Becker's first book of poems, Internal West, won The Paris Review Prize. Her second collection of poetry, Stories That Listen, was published by Four Way Books in Fall 2010. Becker won TLR's Charles Angoff Award for outstanding contributions during a volume year for her story "Failures of Imagination" in TLR's Summer 2011 The Rat's Nest. She teaches poetry at Pratt Institute and Columbia University.
About The Literary Review:
The Literary Review, published quarterly by Fairleigh Dickinson University, is an international journal of contemporary writing in English and in translation. Each issue is dedicated to a certain concept and contains poems, short fiction, essays, and interviews all centered around that theme. The Fall/Winter 2011 issue of TLR is Lives of the Saints.
---