The powerHouse Arena invites you to:
President's Day Kids Reading
featuring
Maira Kalman (Looking at Lincoln)
and Margaret McNamara (George Washington's Birthday)
Sunday, February 19, 3–4 pm
Ages 4–8

The powerHouse Arena · 37 Main Street (corner of Water & Main St.) · DUMBO, Brooklyn
For more information, please call 718.666.3049
rsvp: kids@powerHouseArena.com

Maira Kalman and Margaret McNamara share Looking at Lincoln and George Washington's Birthday, their new picture books about two of our most notable presidents.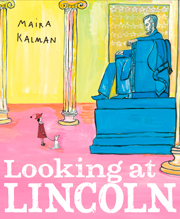 About Looking at Lincoln:
Award-winning and acclaimed artist and author Maira Kalman delivers another historical gem with Looking at Lincoln, which comes out just in time for Presidents' Day! It's a beautifully illustrated book about Abraham Lincoln, one of our nation's most beloved historical icons, as seen through the eyes of Kalman, one of today's cultural icons.
Maira Kalman is fascinated with all things Lincoln. Kalman first wrote about her love for Lincoln in a New York Times online column called "In Love With A. Lincoln," on which this book is based. From his boyhood in a log cabin to his famous presidency and untimely death, Kalman shares Lincoln's remarkable life with young readers, who will find her fascination with him contagious. Her charming text and bold artwork make history come alive in a fresh and exciting way.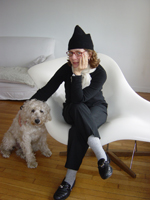 About Maira Kalman:
Maira Kalman is an illustrator, author, and designer. Her picture books include Fireboat; What Pete Ate From A-Z; Next Stop Grand Central; Sayonara, Mrs. Kackleman; and Max Makes a Million, as well as adult hits such as And The Pursuit of Happiness, The Elements of Style Illustrated, and The Principles of Uncertainty. Her awards and honors include an ALA Notable, Horn Book Award, School Library Journal Best Book, Booklist Editors' Choice, Bulletin Blue Ribbon, Publishers Weekly Best Book, Boston Globe-Horn Book Award and Child Best Book. Her artwork has graced the cover of The New Yorker, and her watches, clocks, accessories, and paperweights have been featured at the Museum of Modern Art store. She lives in New York City.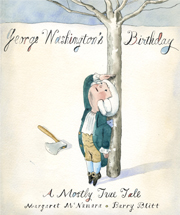 About George Washington's Birthday:
From award-winning author Margaret McNamara and New Yorker artist Barry Blitt comes this partly true and completely funny story of George Washington's 7th birthday. In this clever approach to history, readers will discover the truths and myths about George Washington. Did George Washington wear a wig? No. Did George Washington cut down a cherry tree? Probably not. Readers young and old who are used to seeing George Washington as an old man will get a new look at the first president—as a kid.
About Margaret McNamara:
Margaret McNamara is the author of How Many Seeds in a Pumpkin?—called "illuminating" by FamilyFun Magazine and recommended as "a first-purchase consideration" by School Library Journal—and most recently of The Three Little Aliens and the Big Bad Robot, illustrated by Mark Fearing. She is also the author of the popular Robin Hill School early reader series, which sold more than 1.5 million copies. She lives in New York City.
---