The powerHouse Arena invites you to a discussion and signing:
The Roebling Legacy
featuring the author in conversation with Kriss Roebling
Drinks will be served
Tuesday, November 29, 7–9 pm

The powerHouse Arena · 37 Main Street (corner of Water & Main St.) · DUMBO, Brooklyn
For more information, please call 718.666.3049
rsvp: rsvp@powerHouseArena.com

What better place to learn about the legacy of the family responsible for designing and building the Brooklyn Bridge than DUMBO? Kriss Roebling (of the Roeblings) joins historian Clifford W. Zink to discuss the family's rich history.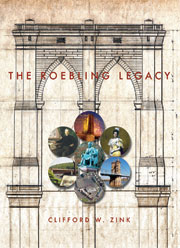 About The Roebling Legacy:
The new book by Princeton-based historian Clifford W. Zink chronicles the classic American saga of the Roeblings, builders of the Brooklyn Bridge and the great cables on the Williamsburgh, Manhattan, George Washington, and Golden Gate Bridges.

The Roeblings also developed wire rope for new technologies that helped shape modern life, like elevators, telephones and electrification, cable cars, and airplanes. They created "America's first sports car," and built one of America's best model towns, a favorite of New Urbanists.

At the 125th anniversary of the Brooklyn Bridge in 2008, Mayor Michael Bloomberg called it "the universal icon of New York and an enduring symbol of America's greatness." John A. Roebling proposed the bridge in 1857 and tragically died in 1869 at the start of construction.

His son, Washington A. Roebling, succeeded him as chief engineer and later recalled, "Here I was at the age of 32, suddenly put in charge of the most stupendous engineering work of the age. At first I thought I would succumb, but I had a strong tower to lean upon, my wife."

Emily Warren Roebling famously helped her husband keep his job after he became disabled by construction injuries, and helped him complete the bridge in 1883.

The 296-page, full color, hardcover book includes 470 illustrations, a list of Roebling Bridges and Cables, and a Roebling Family Tree through four generations.
About the author:
Clifford W. Zink is an award-winning author of books on architectural, industrial, and landscape history. He will read brief excerpts of compelling family letters and memoirs from the book.
---