The powerHouse Arena invites you to the paperback launch for:
Listen to This
Tuesday, November 8, 7–9 pm


Drinks will be served



The powerHouse Arena · 37 Main Street (corner of Water & Main St.) · DUMBO, Brooklyn
For more information, please call 718.666.3049
rsvp: rsvp@powerHouseArena.com

"Ross veers effortlessly from Mozart to Radiohead, and from Kurt Cobain to Brahms, bringing a pop fan's enthusiasm to the composers and treating the rock stars seriously as musicians...a joy for a pop fan or a classical aficionado."
—Alan Light, The New York Times Book Review
The New Yorker music critic comes to the store to discuss Listen to This, just out in paperback.
About Listen to This:
Listen to This—which collects Alex Ross' finest writing for The New Yorker since 1994—is that rare book that moves across the entire landscape of music, from classical to rock and back again. In this series of lively, erudite essays, Ross tells of his own late-blooming discovery of pop, and of how contemporary sounds relate to centuries of musical tradition. He vividly sketches canonical composers such as Schubert, Verdi, and Brahms; gives us in-depth interviews with modern pop masters such as Björk and Radiohead; and, in a previously unpublished essay, brilliantly retells hundreds of years of music history—from Renaissance dances to Led Zeppelin—through a few iconic bass lines of celebration and lament. Witty, passionate, and brimming with insight, Listen to This shows how music expresses the full complexity of the human condition.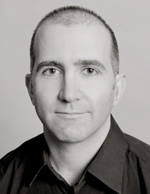 About the author:
Alex Ross has been the music critic for The New Yorker since 1996. He is the author of the international bestseller The Rest Is Noise: Listening to the Twentieth Century, which was a finalist for the 2008 Pulitzer Prize and won a 2007 National Book Critics Circle Award. In 2008, he was named a MacArthur Fellow.
---