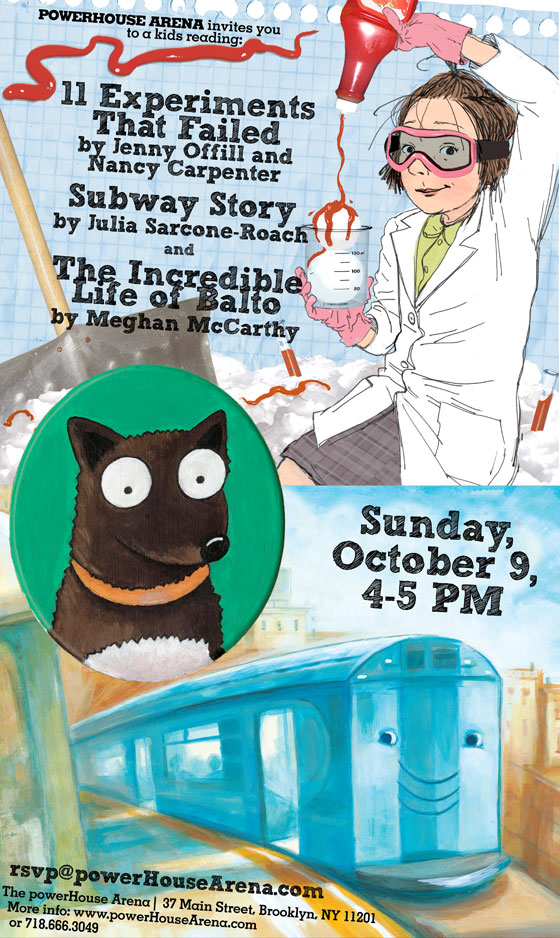 The powerHouse Arena is pleased to invite you to a kids' reading:
Nonfiction for Kids: A Triple Reading about Subway Trains, Heroic Dogs, and Science Experiments
Ages 4–8

Sunday, October 9, 4–5
PM
The powerHouse Arena · 37 Main Street (corner of Water & Main St.) · DUMBO, Brooklyn
For more information, please call 718.666.3049
RSVP: kids@powerHouseArena.com

What happens to a subway car when it's too old to carry passengers? Can a kid live off snow and ketchup for the rest of her life? What became of Balto, the celebrity dog, after the flashbulbs faded? Julia Sarcone-Roach (Subway Story), Jenny Offill and Nancy Carpenter (11 Experiments That Failed), and Meghan McCarthy (The Incredible Life of Balto) have all created picture books that answer one of these questions, and they'll be reading and signing them at powerHouse.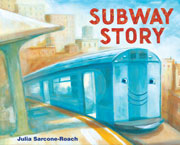 About Subway Story
Never was there a subway car who loved her job more than Jessie. From morning to night she carried all sorts of people all sorts of places—to work and school and World's Fairs, over bridges and through tunnels—sometimes she even took a pigeon along for the ride! But as time passed, sleek new silver cars began to take over the tracks, banishing Jessie to an abandoned lot. What will she do with no passengers to carry? And where will she go now that she's no longer welcome on the tracks?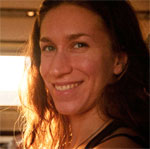 Based on the true story of 1960's-era subway cars that are now being used to create artificial reefs in the Atlantic, this stunningly illustrated eco-friendly book from Julia Sarcone-Roach teaches readers young and old the benefits of both public transportation and creative recycling.
After attending the Rhode Island School of Design, Julia Sarcone-Roach made her Knopf picture book debut with The Secret Plan. She is also the creator of animated videos, including Call of the Wild, which was featured in indie film festivals and won several prizes. Learn more at JSarconeRoach.blogspot.com.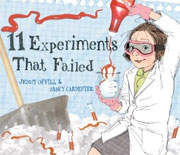 About 11 Experiments That Failed:
The insatiably curious protagonist from 17 Things I'm Not Allowed To Do Anymore returns to conduct 11 all-important experiments in comedic duo Jenny Offill and Nancy Carpenter's 11 Experiments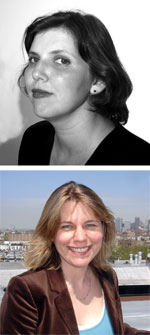 That Failed—a tale sure to bring out the scientist in every youngster. Is it possible to eat snowballs doused in ketchup, and nothing else all winter? Can a live beaver be ordered through the mail? Our fearless scientist sets out to discover the answers to these, and nine other, hypotheses. And as any good scientist knows, to conduct an experiment, you need a list of "what you need," "what to do," "what happened," and sketches to document your findings. Modeled on school experiments, this title allows young readers the chance to utilize the skills they have been honing in the classroom to investigate their own all-important questions. Offill's spare text combined with Carpenter's endearing multi-media artwork creates a laugh-out-loud reading experience for all ages.
Jenny Offill is the author of 17 Things I'm Not Allowed to Do Any More. She is also the author of two adult titles, including Last Things, which was hailed as "a beautiful debut novel" by Newseek.
Nancy Carpenter is the illustrator of 17 Things I'm Not Allowed to Do Anymore, called "picture-perfect" in a starred review in School Library Journal, as well as 5 other picture books, including Apples to Oregon, an ALA-ALSC Notable Children's Book.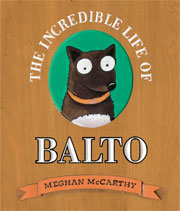 About The Incredible Life of Balto:
Most people know the story of Balto, the world famous dog who led his dogsled team through a blizzard to deliver a lifesaving serum to the stricken people of Nome, Alaska, in 1925. Balto shot to instant stardom-a company named dog food after him, a famous sculptor erected a statue of him that stands in Central Park to this day, and the dog even starred in his own Hollywood movie. But what happened to Balto after the hoopla died down?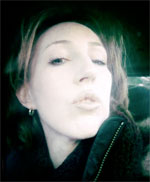 With a lively, informative text and humorous, vibrant illustrations, Meghan McCarthy captures the extraordinary life of Balto beyond his days as a celebrity.
Meghan McCarthy is the author of several critically acclaimed nonfiction picture books, including Aliens Are Coming! The True Account of the 1938 War of the Worlds Radio Broadcast; Strong Man: The Story of Charles Atlas; and Astronaut Handbook.