The powerHouse Arena invites you to the Brooklyn book release party for:



Blood, Bones, and Butter

The Inadvertent Education of a Reluctant Chef



by Gabrielle Hamilton



Featuring a conversation with Peter Meehan.


Wednesday, March 2, 7–9

PM




Drinks will be served.




The powerHouse Arena · 37 Main Street (corner of Water & Main St.) · DUMBO, Brooklyn
For more information, please call 718.666.3049
rsvp: rsvp@powerHouseArena.com



"I will read this book to my children and then burn all the books I have written for pretending to be anything even close to this. After that I will apply for the dishwasher job at Prune to learn from my new queen."
— Mario Batali

The foodies have already been drooling over Gabrielle Hamilton's new memoir, Blood, Bones, and Butter, one of the season's most anticipated titles. The Prune chef-owner is coming to The powerHouse Arena to talk about it with food writer Peter Meehan (Momofuku). Stop by, grab a glass of wine, and learn about one chef's path to culinary glory.



About Blood, Bones, and Butter: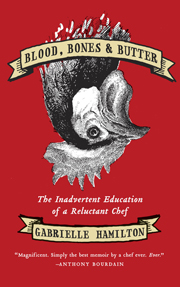 Blood, Bones, and Butter: The Inadvertent Education of a Reluctant Chef marks the debut of a tremendous literary talent. As intelligent and uncompromising as it is passionate and evocative, this is an unconventional story about food, purpose, and family—the profound moments of satisfaction in life when we have all three, and the sharp emptiness we experience when none is within our reach.

Gabrielle's childhood home in a burnt out nineteenth-century silk mill in rural Pennsylvania was the lush setting for her parents' elaborate parties, where pigeon pies were eaten and whole baby lambs were roasted over wood fires, while beer and wine chilled in a nearby creek. Her father (a theatrical set designer) transformed their home with refrigerator-sized cartons of fake snow, dry ice machine fog, and stacks of Kilim rugs depending on the party's theme. However, the magical childhood abruptly ended when her rigidly disciplined mother (a former ballerina who "spent the day in a good skirt, high heels, and an apron") announced to her Bohemian, dreamy husband that she was finished with the marriage.

A hasty and slip-shod dismantling of the family of seven left a pre-adolescent Gabrielle and just one of her brothers alone in the empty house for the summer. Under sudden financial distress, outfitted in shoplifted clothes and "hastily grazing through the menu of adult behavior," she quickly took up smoking and walked a mile down the train tracks to the touristy town of New Hope to find a job in a restaurant. The tumultuous years that followed included a move to Hell's Kitchen at age 16 and a job as a nightclub waitress where she cheated the owners out of tens of thousands of dollars, most of them spent on drugs. Between attempts to graduate college, Gabrielle traveled the world and during these money-strapped explorations learned the lessons that hunger can impart—among them, that being picked up and fed, often by strangers and when you are in a state of fear and hunger, is the single most important and convincing food experience.

Upon her return to New York, Gabrielle spent countless soulless hours working in catering factories, struggling between the impulse to break away from a food-centered life to do something "meaningful" and the pull of the satisfying and practical work of the kitchen. Readers accompany Gabrielle from her time in the Midwest getting an MFA to the launch of her celebrated East Village restaurant Prune and from an unlikely marriage to a somewhat incompatible Italian man to the annual trips with her children to her husband's family's seaside villa in Puglia.
About the participants:


Gabrielle Hamilton is the chef/owner of Prune restaurant in New York City's East Village. She received an MFA in Fiction Writing from the University of Michigan and her work has appeared in the New Yorker, New York Times, GQ, Bon Appetit, Saveur magazine, and Food & Wine. She has also authored the 8-week Chef's Column in the New York Times, and her work has been anthologized in six volumes of Best Food Writing. She has appeared on Martha Stewart and the Food Network, among other television programs. She lives in Manhattan with her two sons.

Peter Meehan writes most often about food and most frequently for various appendages of the New York Times. He is the co-author of the bestselling cookbook Momofuku, among other titles.
---