The powerHouse Arena is pleased to invite you to a special:

Harper Perennial Party
A Comedic Night with Ben Greenman and Neil Strauss
Thursday, November 4, 7–9

PM



The powerHouse Arena · 37 Main Street (corner of Water & Main St.) · DUMBO, Brooklyn
For more information, please call 718.666.3049
RSVP: rsvp@powerHouseArena.com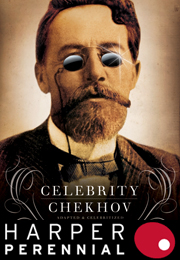 Authors Ben Greenman (the just-released short story collection Celebrity Chekhov, this summer's acclaimed What He's Poised to Do), and Neil Strauss (the best-selling The Game, Emergency, and the forthcoming Everyone Loves You When You're Dead), will host a comedic evening at Brooklyn's powerHouse Arena that focuses on the "dark side of celebrity." Greenman and Strauss, who in addition to writing their own books have co-authored memoirs by Mötley Crüe, Gene Simmons, Jenna Jameson, and others, will expound on the "secrets of fame, fiction, and fandom," and, together with special guests, present comedy "based on strange-but-true celebrity encounters."

As a key attraction of the evening, audience members will get a chance to present their own life stories. Strauss and Greenman will then select two of the stories and, during the course of the evening, write the "memoir" of two of the audience members with the best life stories. The Harper Perennial/It Books design team will also be on hand to design covers for the books—all to be revealed at the climax of the evening. Drinks will be served.

About the books:
Everyone Loves You When You're Dead, by Neil Strauss
In the forthcoming Everyone Loves You When You're Dead: Journeys into Fame and Madness (on sale: March 15, 2011), rock journalist and best-selling author Strauss presents 120 of his most singular, perception-altering interviews with such iconic stars as Madonna, Johnny Cash, Brian Wilson, and Hugh Hefner.

Celebrity Chekhov, by Ben Greenman
In Celebrity Chekhov, New Yorker editor and novelist Greenman takes 18 of Anton Chekhov's greatest stories and reimagines them as inhabited by some of the best-known entertainers of our time—including Kim Kardashian, Britney Spears, and Tiger Woods—to hilariously surreal effect.
About the authors:
Neil Strauss is the author of the New York Times bestsellers The Game and Rules of the Game. He is also the coauthor of three New York Times bestsellers: Jenna Jameson's How to Make Love Like a Porn Star, Mötley Crüe's The Dirt, and Marilyn Manson's The Long Hard Road Out of Hell, as well as Dave Navarro's Don't Try This at Home, a Los Angeles Times bestseller. A writer for Rolling Stone, Strauss lives in Los Angeles.

Ben Greenman is an editor at the New Yorker and the author of several acclaimed books of fiction, including, Superbad, A Circle is a Balloon and Compass Both, and the funk-rock novel Please Step Back. His fiction, essays, and journalism have appeared in numerous publications, including The New York Times, The Washington Post, The Paris Review, Zoetrope, McSweeney's, and Opium, and he has been widely anthologized. He is also a regular contributor to the online music site moistworks.com. Greenman lives in Brooklyn with his wife and two children.