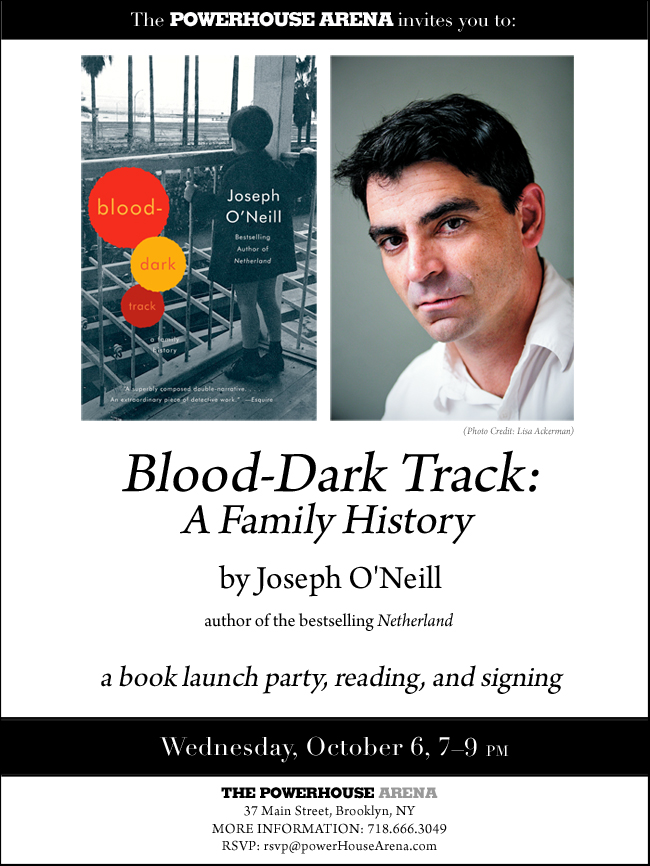 The powerHouse Arena is pleased to invite you to a book launch party for:
Blood-Dark Track: A Family History
by Joseph O'Neill

Reading & Signing
Wednesday, October 6, 7–9

PM


The powerHouse Arena · 37 Main Street (corner of Water & Main St.) · DUMBO, Brooklyn
For more information, please call 718.666.3049
RSVP: rsvp@powerHouseArena.com

About Blood-Dark Track:
Joseph O'Neill's grandfathers – one Irish, one Turkish – were both imprisoned during the Second World War. The Irish grandfather, a handsome rogue from a family of small farmers, was an active member of the IRA and was interned with hundreds of his comrades. O'Neill's other grandfather, a hotelier from a tiny and threatened Turkish Christian minority, was imprisoned by the British in Palestine, on suspicion of being a spy. At the age of 30, Joseph O'Neill set out to uncover his grandfathers' stories, what emerges is a narrative of two families and two charismatic but flawed men – it is a story of murder, espionage, paranoia, and fear; of memories of violence and of fierce commitments to political causes.


About the author:
Joseph O'Neill was born in Cork, Ireland, in 1964, and grew up in Mozambique, South Africa, Iran, Turkey, and Holland. His previous works include the novels This Is the Life, The Breezes, and Netherland. He writes regularly for The Atlantic Monthly. He lives with his family in New York City.
Reading from Joseph O'Neill
Blood-Dark Track on Google Books